Thumbnails: Flush of Success
Check theStar today (27 November 2007) on page N48 and kindly vote for me :P for picture of the day/month. Put your reasonable 'star/s' if you find fascinating compare to other 4 photos.
Click the url:
http://thumbnails.thestar.com.my/view.asp?id=2098
to vote.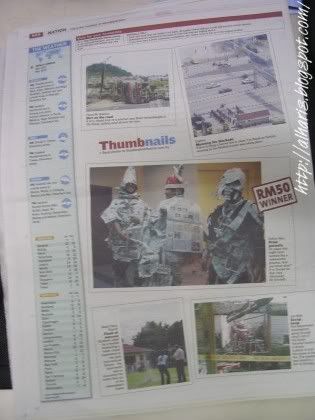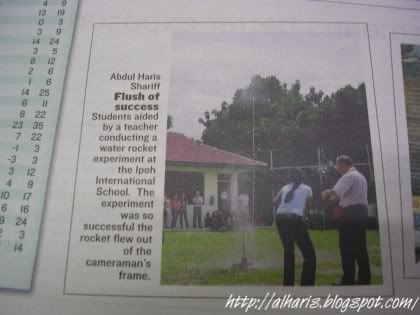 My second attempts at
http://thumbnails.thestar.com.my/
. I captured at Ipoh International School. The kids were doing water rocket experiments, while I waiting for KRI:12km Road Race volunteers packing my goodies bags.
Alot of kids and parents came and brought their own water rocket, created using big size of carbonate drinking bottle. Almost all the water rockets successful launch and fly above pokok angsana nearby. Some of them "end/touch-down" on the housing roof.
Eeemmm.. Some of the photos here worth RM50. Where it is?
More photos including the original at my
KRI 2007 running report
.
Labels: info, newspaper, thumbnails