Monday
Monday.. any one?
I be waiting for a week.
Tonight Monday. Channel 8. 10:30pm..
Arghh!! Ikan Pari betul.. the show was replace with
The Lost
Michael Scofield
is not prisoner anymore.. Now.. he is a fugitive with his bro and inmates.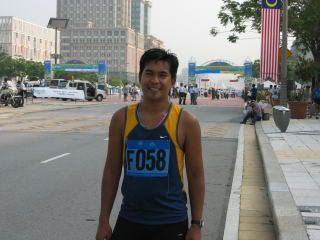 courtesy of Zulazlan
Just back from
Putrajaya International Marathon
yesterday.
Peh!! Best.. Finished the half marathon.
The best is.. my left leg dah piiiiii.. lingkup.. kaput.. penkaq..
For sure.. I will gantung my shoes until this coming Ramadhan or even more.
Now..
- I had to berak duduk.. - dislike this position,
- Jalan selow with straight leg, memenangkan Robot Asimo.
- Working at my cubic only.. anything happen beyond that – I'm just VNC (remote). Except kencing.
- Sembahyang.. - duduk
- Any questions regarding my leg "Kaki hang kena apa?", "Awat hang jalan macam tu?", "Hang main bola ka?" and etc.. - Answer.. "Aku jatuh bangunan 10tingkat daa!" Kalau aku bagitau, sakit pasai lari.. sure depa gelak. Mampuih pi kat depa..
- Aku nak cuti esok. – rehat dari berjalan
Full report in couple of days