Report: Larian Separuh Marathon Merentasi 3 Negeri
Date: 04 Dec 2011 | 6:00am | Sunday
Venue: NTCRC Building, Nibong Tebal (NT), Penang
Distance: 21km | 1:56.36
Saturday - 03 December 2011
After finished a
10km 4th Betong-Tanoamaeroa
with Alauddin and Jasmin at Betong Hot Spring, we went back to hotel for packing without waiting medal ceremony or lucky draw announcement. Bought kilos of beras pulut and fruits at Betong wet market and had lunch before exit Thailand border.
Drove back (km) to Sungai Petani and changed for fresh cloth. Our next destination was heading south, Sungai Bakap, Penang. My hometown. SgBakap - NT +15km only.
Sunday - 4 December 2011
4am. Wake-up. Light breakfast with energy bar (natural valley). Still felt tired of driving yesterday. Kaki ok. Target to finish the race without time concern. I went alone. Cikgu and kids still sleeping.
@NT, thanks to Mr. Khoo for keeping my bib+vest and free registration.
The race start at 6am. Luckily subuh period at 5:52am. Subuh jemaah with Hafiz - a friend from Kulim. Must Subuh first, kalau tak lari tak tenang.
Almost 6years NTCRC not doing any run event. If not mistaken their last running event was
Larian Muhibbah 2005
. Still remember, I hit a lucky number and received a towel.
With rusty
Nike Lunarglide+
(sudah koyak + tarak tapak) I ran slowly thru sleepy pekan koboi Nibong Tebal. Back in 15~20 years ago, pekan Nibong Tebal cukop sibuk. Semua kedai bukak, ada bas station to various destination dan panggung wayang Cahaya :P I don't know why sunyi. Maybe because of the road improvement bypass the town or new business development come-up.
Still running in Penang state, @5km we're passing USM Engineering Campus. I skip the water station, running free on two lanes road heading pekan Parit Buntar.
Again we're running thru pekan lama of Parit Buntar, Perak. Not much motorist. But volunteers did a good job taking care of traffic.
Passing Jambatan Sungai Krian, we ran thru old town of Bandar Baru, Kedah. Nama saja Bandar Baru but here... betoi2 pekan koboi. Cuma depa tak tambat kuda kat tiang aja. Small town, old wooden building. Tak salah aku cuma 2 kedai aja yang buka during normal day.
@10km. My stopwatch shown 50++min. Kampung area. Bored. I started chat with runner beside me. He told he came all the way from Klang with some friends. Peh! Kaki lari..
Passing Empangan Jajar. Crossing Sungai Krian for second time, we heading back to USM Engineering Campus. Weather abit cloudy and windy. Syiok. @15km, I took sip of water, I started walking... kaki letih. No injuries. Minyak ada lagi but kaki letih.
Sambung lari. This time i'm really looking for water station. Tekak kering gila because I took sweet water @15km water station - asked for plain water but he pass me 100Plus. Plead to St. John for water but no respond. Duuhh..
I shut my mind for water and focus on the run. It started raining and luckily it become heavily after i crossed finish line. Fuh..
There plenty of post-race meal - Watermelon, soya, bun, boiled egg, ice-cream, vico drinks. I think more than enough for everyone - mengah perut.
Conclusion.. just my 50sen
1. If organizer decide to organise only half marathon distance - For me it is Ok. Maybe a trademark of NTCRC event..
2. Provide more categories - 5 men and 4 women really grateful. And more kakis will be coming
3. Volunteer - ok, St. John medical team - ok, traffic - ok, makan - cukop.
4. Position card or ranking for top50~100... kalau boleh.
Click
here
for Official Result.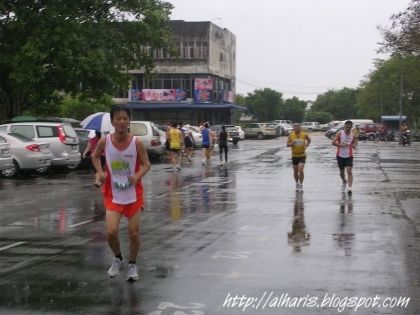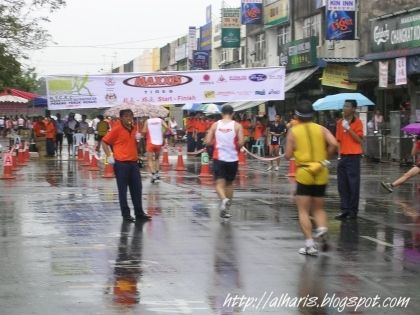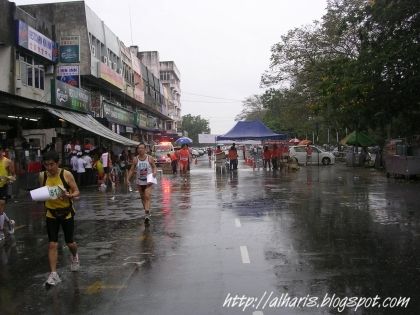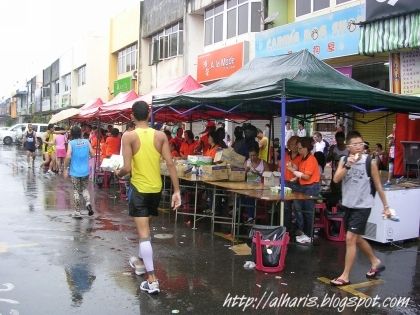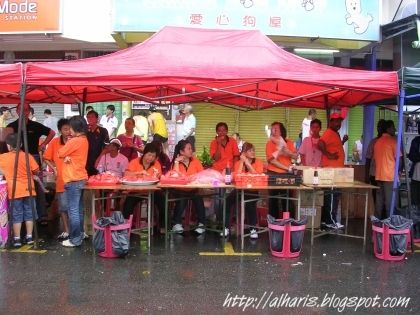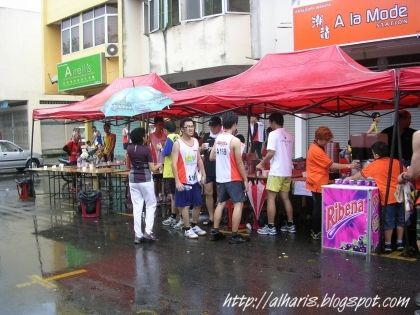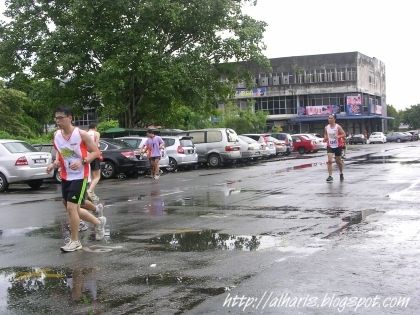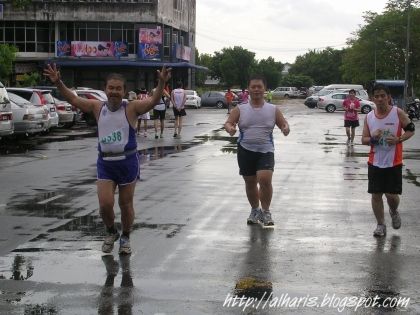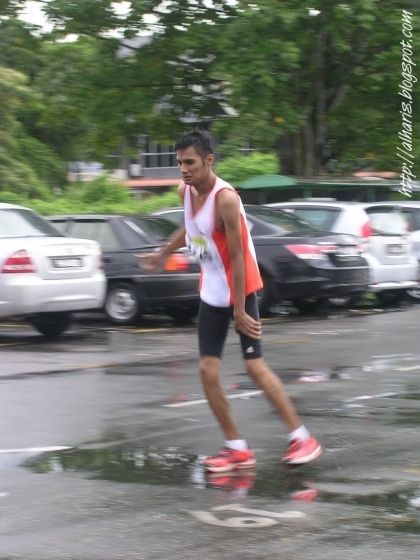 Kaki cramp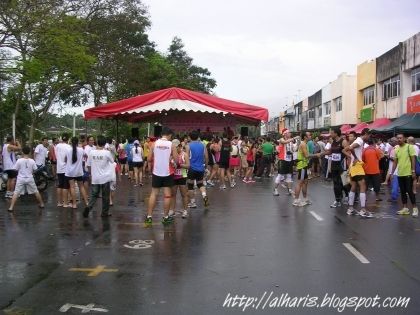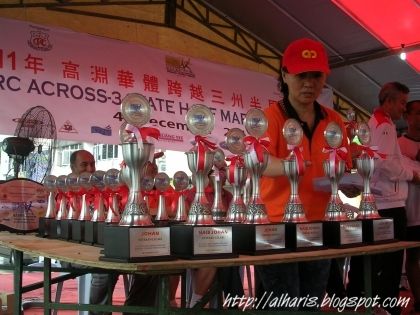 Top10 Men Open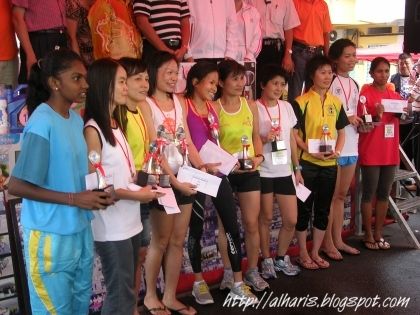 Top10 Women Open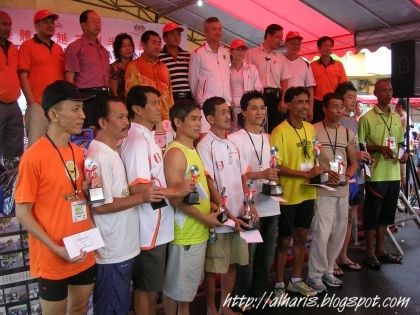 Top10 Men Veteran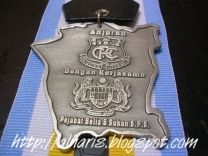 Labels: report