Report AIMST Unity Run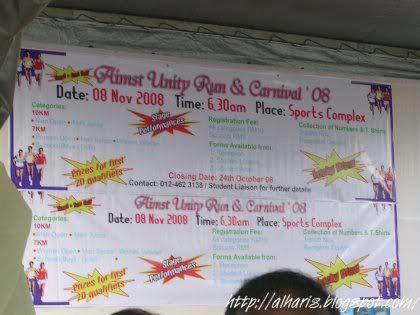 It was 2nd times AIMST (AIMST url) organized the Unity Run, for me it is 2nd participation and my 3rd race for this year 2008. The first one was
Great Eastern 30km
which held on January. I took long break to rejuvenate.. maybe.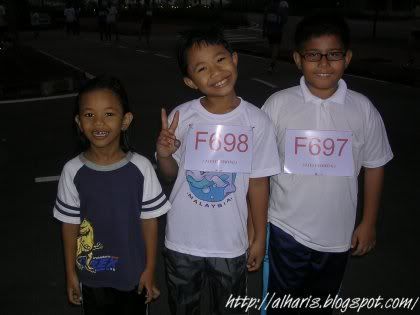 Jasmin, Alauddin and his best friend – Asraff
In front of AIMST complex
3 weeks before I start jog again. Slowly jog followed by Jasmin and Alauddin with their bikes. We ran/bikes thru rubber plantation, palm estates and golf resort houses. I really need them to boost my inner strength to start jog again, else.. probably I still under recovery mood.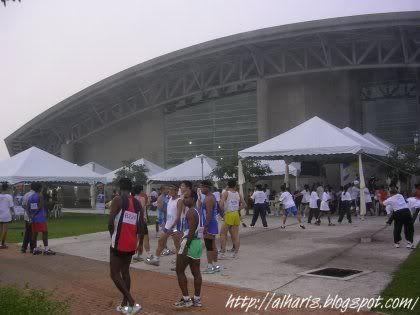 This time Alauddin decide to join me. He registered under 16years old which is a school student category. I think he is the youngest participant and he need to complete a 7km running distance. I know he did not know how far the 7km is, but he looks excited when I show him the route course.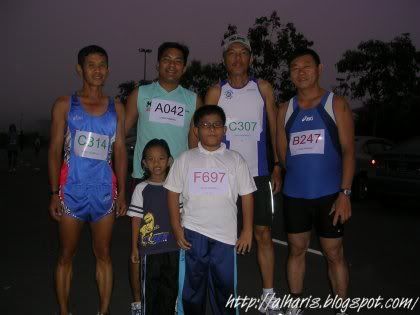 Cikgu Tan (Veteran champ) aku, Chuah and Thean Seng.
It is kind of reunion gathering again. I meet up my buddy Alex Ong, Pak Ya, Adry, BM Leopard, SP Runners members. Said hi, said hoi, said hey and continue sembang until standing at starting line. 7:30am sharp, the Unity Run flag-off.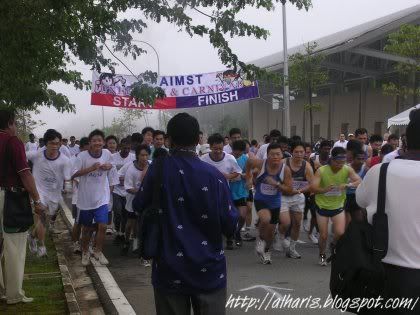 Men Open flag-off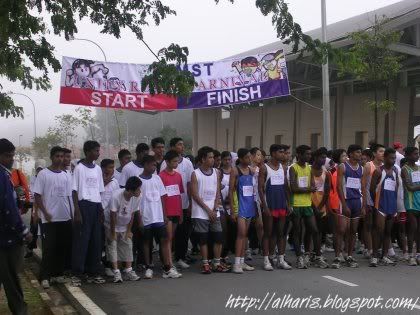 School category – Alauddin far behind
I was jog slowly behind. There no target on timing, just an easy jogging. After 3km mark passed I tried to challenge my self by sayur a few open category runners. Trying to catch up PakYa only 50meter head of me – tak bleh.
Alauddin
Weather was beautiful – cool, less traffic and route course cover by fog. Half way to a U-turn of route course, R.Muniandy the Men Open champ already passed me by on the side of the road. Meaning he already covered ¾ of course.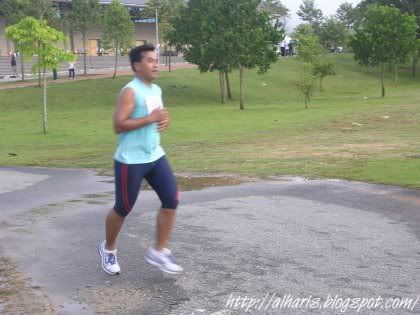 After U-turn or halfway, I felt a bit exhausted, grab a cup of water, make my self comfortable and maintain the pace. Until the AIMST entrance. 2km more. I saw a group of 4 open category young runners. Trying to potong them on hilly road but they gave me a fight back. Kaki already tired and I let them go. After a loop of running track I crossed the finish line 40:57.35 minutes (5:18 mins more than
last year record
). Got 23th position. Duh!.. I should potong those 4 open runners for medal. Pap!.. – that was no rezeki.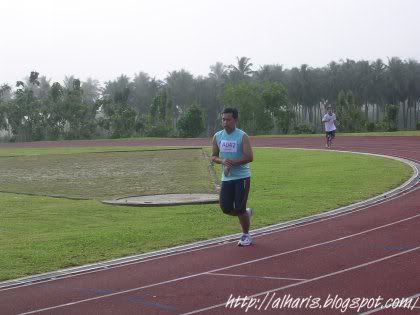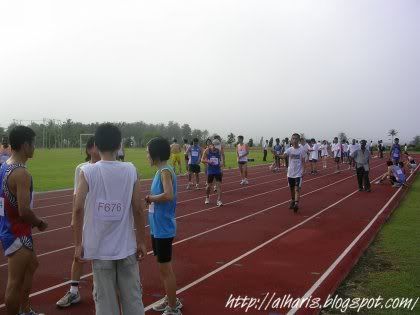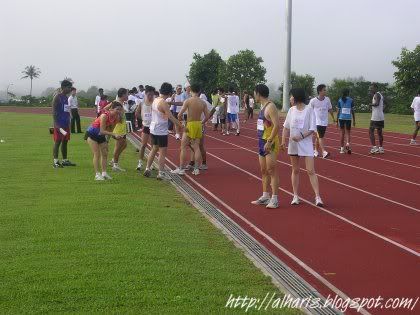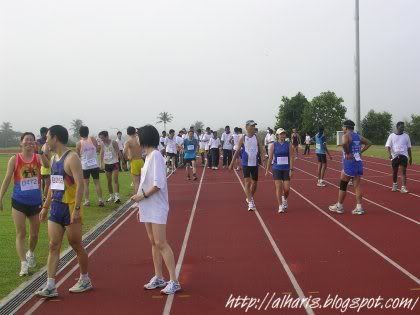 Quickly I ran back to AIMST entrance waiting for Alauddin. A few minutes later he reach the entrance with smile and said..
"Abang potong ramai orang. Kakak2, abang2 dengan pakcik2 sekali"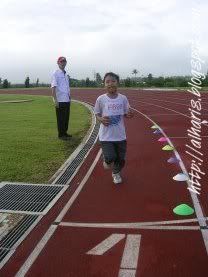 He crossed the finish line in his first run race – 7km
I ran with Jasmin to accompany Alauddin to finish another 2km more. He looks tired. He was doing run-walk-run until stepping on running track, he jog non-stop until finish line. - He ran/finished his first run race.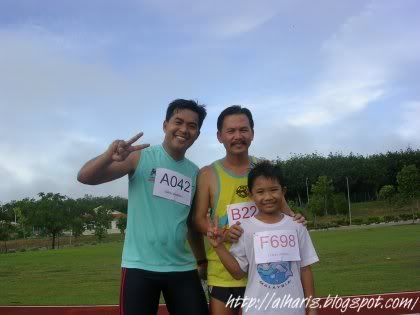 With my buddy Alex Ong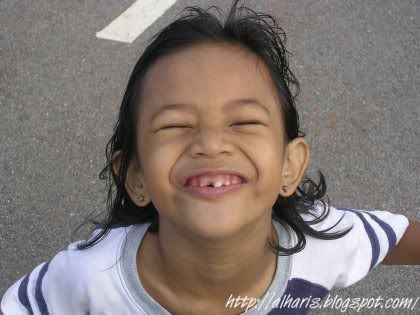 Jasmin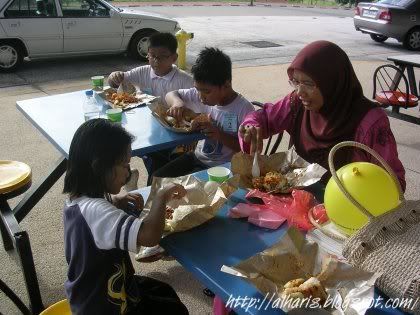 Having nasi lemak for breakfast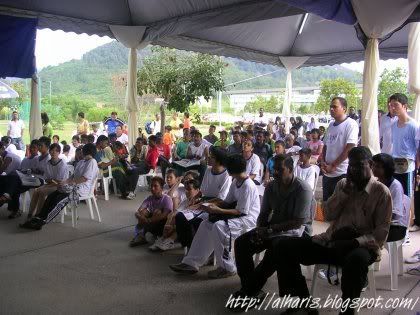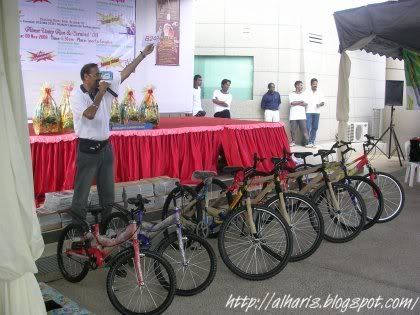 The grand prizes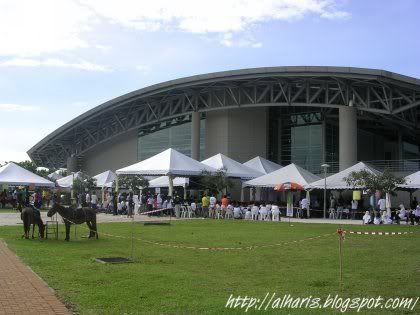 After breakfast and while waiting for medal ceremony and lucky draw, Cikgu registered Alauddin and Jasmin for a jigsaw puzzle contest. There were >30 kids taking part. 10 minute after starting time, Alauddin raise his hand. I thought he needs to go to toilet but the judge said
"1st winner!"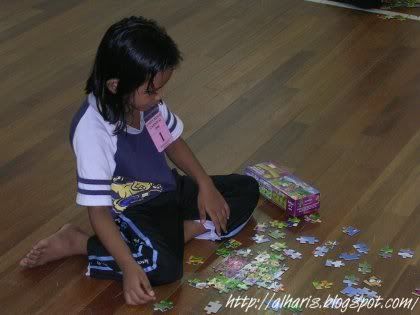 Jasmin trying to solve the puzzle
Siap!
Then an Indian girl raises her hand for a second winner. A few minute later.. Jasmin raises up her hand. After the judge checked her puzzle, she declares Jasmin was 3rd winner.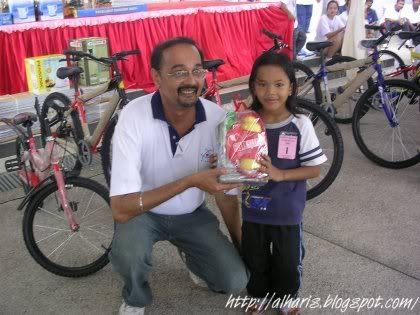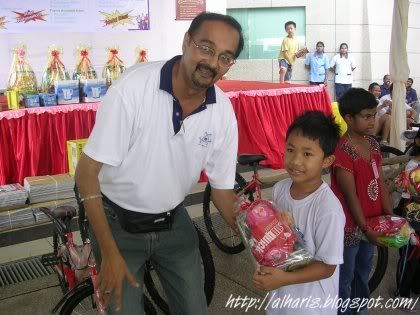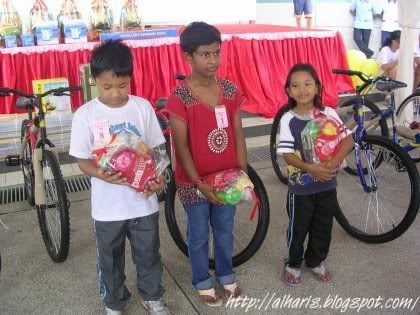 Alauddin 1st and Jasmin 3rd in Jigsaw Puzzle contest
After medal and hamper ceremony, some of the runners still waiting for lucky draw grand prizes. There were 300 lucky draw prizes offered by AIMST such as electronic devices and 6 bicycles. And luckily, we managed to win one of the bicycles.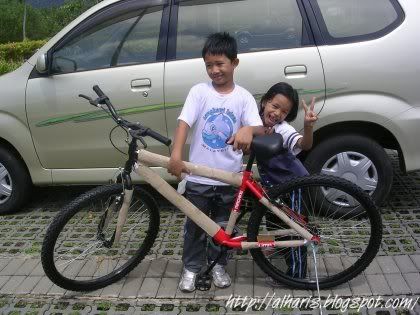 Gerek kaler merah
Fuh! Selamat aku hari ni... I don't need to buy anything for him on his birthday today. He is top10 in chinese school final exam, finished his first run race, got 1st prize on puzzle game and a new red bicycle... Today is your best birthday, right!!
HAPPY BIRTHDAY ALAUDDIN
- 8 November 2000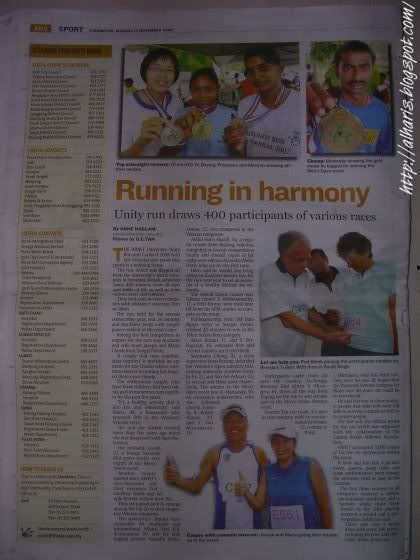 TheStar-Metro section date 10 Nov 2008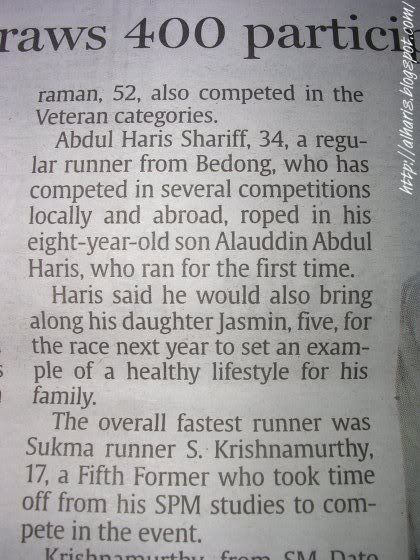 A short story about us
Labels: report