Lembah Bujang Jamboree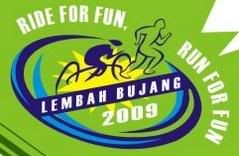 Bike and run event - Not a duathlon. The discipline run separately.
Date: 13 June 2009
Venue: Merbok Polis Station, Kedah
Distance: Bike - 40km and Running - 10km.
Telephone: O4-7315272 or 04-7313851
Prize: Trophy for top10 and finisher medal
Website:
lembahbujangjamboree.blogspot.com
From the info, it said - off road. I don't know whether including running route. If it is trail route then.. i love it.
Form available to be downloaded at Forms and Events section.