Sultan Ahmad Shah International Eco Challenge 2009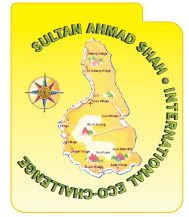 1st. Leg
Date: 2 May 2009
Venue: Tasik Bera
2nd Leg
Date: 9 May 2009
Venue: Pulau Tioman
Registration:
Eco-2009.pdf
Rules:
Rules.pdf
While the event in 2008 test the endurance of the participants in running, mountain biking and canoeing, the SAS International Eco Challenge 2009 will test the running endurance of the participants over the jungle trails of both Tasik Bera and Pulau Tioman.

The race route is carefully chosen to take the participants off the beaten track in this famous lake and island of Pahang. It promises grueling challenges, difficult terrains with breathtaking sights and scenery which are not usually experience by the ordinary visitors to these places.

Sultan Ahmad Shah International Eco Challenge 2009 (SAS) is basically a half marathon race with the participants having to run the eco jungle trails of Tasik Bera and Pulau Tioman. The challenge is divided into the following categories:-



International Category (Men/Women)


Participants must participate in both legs of the event ie the 1st leg – Tasik Bera and the 2nd leg Pulau Tioman. The participant with the best combined score from both these legs will be declared the overall champion of SAS Eco Challenge 2009. The Iron Lady award of SAS Eco Challenge 2009 will be awarded to the highest score lady participant of the two legs.



Local Category (Men/Women)


Participants may also sign up for only 1 leg of the eco challenge ie they may sign up to run either the Tasik Bera or Pulau Tioman Leg of the Eco Challenge. The winner of each leg will be declared the "Juara Tasik Bera" or "Juara Pulau Tioman" respectively.

The Race Dates are as follows:

| | | | |
| --- | --- | --- | --- |
| 1st Leg | Tasik Bera | May 2, 2009 | 24km |
| 2nd Leg | Pulau Tioman | May 9, 2009 | 21km |


For Tasik Bera, the race route is the same for both the Men and Woman category while at Pulau Tioman a slightly different race route is planned. The race routes will take participants through kampong roads, secondary roads and off to the beaten jungle track and trails.
..how about running and makan-angin?