Showdown in Berlin
World record holder Gebrselassie faces this year's top marathoner Duncan Kibet at the real BERLIN MARATHON on September 20th. Both are aiming for a world record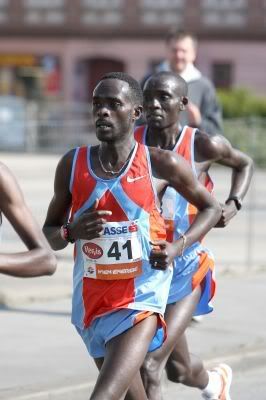 Duncan Kibet of Kenya won this year's Rotterdam Marathon with a time of 2:04:27 hours. The only one to have run faster twice is world record holder Haile Gebrselassie from Ethiopia: with 2:04:26 at his world record race in Berlin in 2007 and 2:03:59 in Berlin in 2008.

On September 20th at the real,- BERLIN MARATHON, the two current fastest marathon runners in the world will both try to run under the mark Gebrselassie set here last year.

Kibet made his distance-running debut by taking second place in the Vienna City Marathon in the spring of 2008 (2:08:33) followed by a victory half a year later at Milan (2:07:53). With Kibet, the fastest marathoner this year, and Gebrselassie, the fastest marathon runner ever, the real,- BERLIN MARATHON 2009 will be the venue for the showdown of the two top contenders worldwide.

The fast course through the German capital has seen six world records since 1998, including the last three men's world records. In 2000, Naoko Takahashi of Japan became the first woman to run a marathon under 2:20 hours with her victory in Berlin. The real, BERLIN-MARATHON is a World Marathon Majors race, which comprises of the five most important marathons in the world.
Labels: news