Report: Breakfast Run @ PACM Permaisuri Group
By Aiman Cheah
Date : 4 Sept 2011 (Sunday) | 7:00am (flag-off)
Venue: Taman Tasik Permaisuri
Distance: 1 or 2 loops of 4.2km each loop
It has been ages since I last participated in a breakfast run. This time I overbought the tickets because my colleagues were unsure of participating. Anyway, at RM5 it does not really burn the pocket... well, something for PACM if they could not make it.
True enough, there were no takers. My students get their own tickets from the Permaisuri group. I thought I was early that day but found that the parking lots were full. PACM members will always be super early…
This is the first time that my family members really complete the distance! Looking forward for more events like this.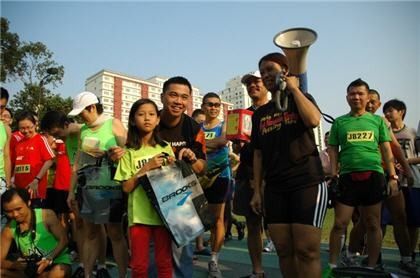 Afiqah was one of the lucky winners. Thanks to Brooks – a t-shirt, a pair of socks and a RM120 voucher for international shoes. Picture courtesy of www.facebook.com/pages/Malaysia-Runners

I was lucky too as I got a goodie bag with energizer charger, disposable razor and other things.
My wife got an umbrella. Akmal was not lucky… over all 3 out of 4 won the luckly draw. Umm with the other two tickets, the percentage was still good 3 out of 6.
Another lucky day as there was not toll collection on that day.
Breakfast Run @ Taman Tasik Permaisuri organized by Permaisuri Group (Pacesetters Athletics Club Malaysia)