Report: Pulau Perhentian Island Challenge 2011
By Aiman Cheah
Venue: Pulau Perhentian Kecil
Date: 15 October 2011 | 11am
Category: Novice Men
Distance: about 14km
Position: 66th
Organizer: Terengganu State Government and Tourism Terengganu
Event managed by: Perhentian Island Challenge Advetures Sdn Bhd
I had wanted to go there as a volunteer in 2009 but unable to do so. I almost joined the event last year but the replacement class on Saturday made me change my mind. So after two years, I finally made it. Yes, finally made it as I almost died in the event.......
I reached MaTiC, Jalan Ampang at around 10.30 p.m. as the buses were scheduled to leave at 11.00 p.m. However, I think we left much later.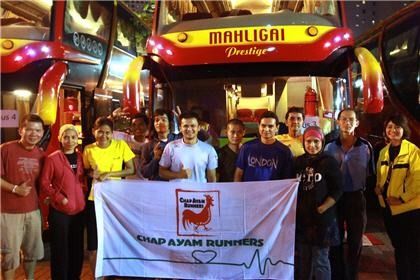 With fellow Chap Ayam Runners While Waiting for the driver.
It was good to get to know Yum, the photographer. It was sort of a priviledge to run with a runner of his stature although he is very humble. "Budak baru belajar belajar konon".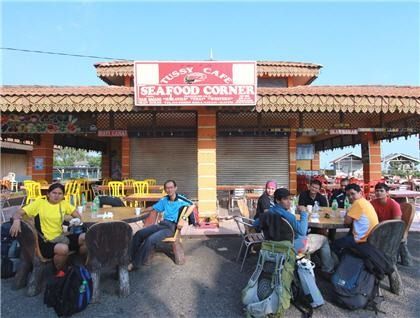 Breakfast at Kuala Besut
The boat ride to Pulau Perhentian Island is not for the faint hearted or those with back problem. It only took about 15 minutes to reach the island.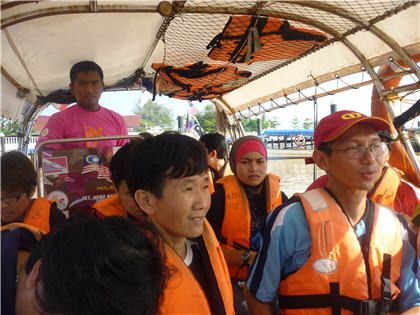 The boat ride to Pulau Perhentian
I was lucky as I met my fellow countryman, Mr Koh who offered me to share the tent with him. We settled down after we got our tent. He also made arrangement for a snorkeling trip. It was only RM30. I enjoyed the trip but took some time to adjust to snorkeling. I did not spot any turtle or shark because I was a little too slow.
Many in the groups managed to spot those marine creatures. The corals and fishes were awesome. No wonder many of those in MNS are hooked to scuba diving...... If I had $$$ I would certainly join them too. It is amazing to swim among those colourful fishes. They are close to you but you can never catch them.
I felt a little feverish after the snorkeling trip. It got worse the next morning. I was thinking whether to run or just pull out of the race. In the end, I decided to give it a try. Well, if I felt bad, I could always abandon the race. I refilled with bottle with just about 300ml of water and took along a piece of pancake. It was more of a picnic plan rather than a competitive race! I did brisk walking when the race started.
Then, jogged as I was left by the crowd. I caught up with them when they could not find the route! As I sweat, I felt better. I began to overtake other participants. Had a gulp of drink after every 10 minutes or so. By half an hour, I had run out of water. Since there were many ascending parts, I decided to walk to prevent myself from sweating and losing more water.
OMG! I thought I could have died before reaching the first water station.
Never in my previous race, the first water station is that far. I think I took close to 2 hours to the that water station and almost gave up there! I took 3 glasses of Gatorade and 2 glasses of mineral water. The pancake was a real help. Quite famish too! I rested about 5 minutes. Took another glass of Gatorade and mineral water before I continued.
3 kampung participants had called it a day. I could no longer run. So, I just walked and walked and walked. I find the trail was much easier or was it because I felt better that drinking that much of water?
The view at the windmill was superb. The stairs were not as killing as those in Menara KL.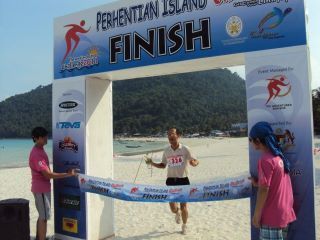 Finishing... just like a champion but actually 11th from the back!
May want to have another go in future if I have the opportunity. The organizer need to improve a little bit. Imagine leaving Kuala Besut for KL at 1.15pm, when the schedule was at 10.30 a.m. One of the bus driver said he won't drive until he got his allowance paid! Participants were no longer important after being used in the event?
Organizer was laughing all the way to the bank after the prize giving ceremony. The state government invested RM200,000 for the event. With that sum of money, I believe the event company can do a more decent job.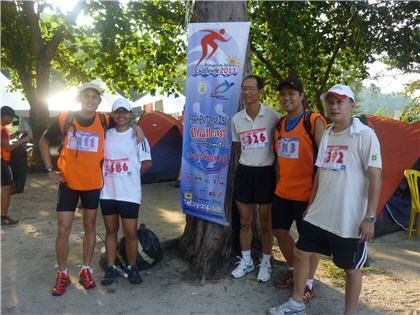 Pictures courtesy of Mr Yum KK and GP Koh