Report: Roasters Chicken Run 2013
By Aiman Cheah
Date: 23 June 2013 | Sunday | 7:00am
Venue: Sunway Lagoon
Category: Adult male
Distance: 4.8 km
Result: DNS
Afiqah Cheah
Category:Kid Female
Result: around 30th position
Akmal Cheah
Category: Kid Male
Result: 49th
An event that my children have always been looking forward to. It may look a little pricey at RM62 and RM57 for adults and kids but then RM13 goes to Little Yellow Education Foundation - that leaves RM49 and RM44.
You also get Roasters quarter chicken meal worth at least RM15. So it's actually RM34 and RM29. Isn't that we normally pay that amount for running events, except organised by state athletics associations or the town councils? And the best part is the 'free' entry to Sunway Lagoon!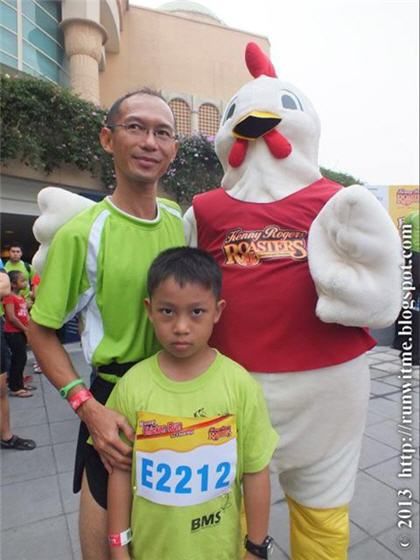 Thanks Mr Max Lim for entertaining me although you were busy snapping pictures
Since there won't be a ghost of a chance to be in the top 50 to get a certificate of participation, I decided to pace Akmal. Two years ago, he was easily in the top 50 - lean and mean. That's a different story lately. He is on the heavy side.
I pitied him for huffing and puffing to the finishing line - but certainly not to the point of abusing or torturing him. You can see the satisfaction in his face when the received the second last certificate.... his passport for the next Roasters Chicken Run!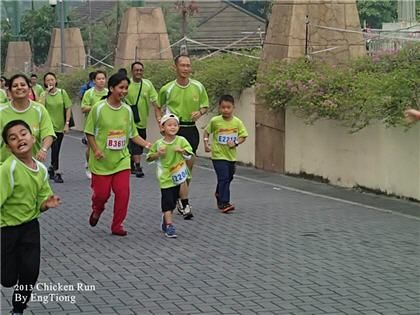 Pacing with Akmal
Afiqah was about a minute behind Akmal - the girls started about 5 minutes later. We had a whale of a time at the theme park after the event.
Unfortunately, KL was enveloped in haze when we were going home.
Pictures courtesy of
Max Lim
and Mr Tey Eng Tiong. He missed Afiqah probably because he couldn't recognise her.