Report: Larian Hijau
By Aiman Cheah
Date: 26th October 2013 | Saturday | 5.30pm
Venue: Taman Tasik Metroplitan, Kepong
Aiman Cheah
Category: Men Open
Distance: 3km
Position: 6
Afiqah Cheah
Category: Primary School Girls
Distance: 3km
Position: 9
Akmal Cheah
Category: Primary School Boys
Distance: 3km
Position: unknown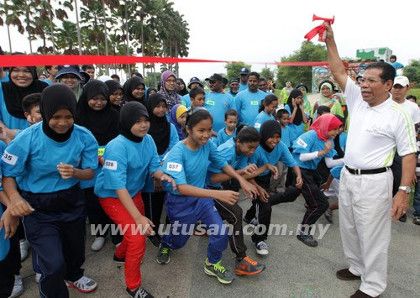 Picture courtesy of Utusan Online.
This event is in conjunction with Environmental Week at Federal Teritory Kuala Lumpur.
I only knew about the event after my wife told me that my children would be taking part in the colouring contest and the run. It was passed closing date when I made an inquiry.
I took my class students to join me, one for drawing event and two for the run.
I was surprised to finish 6th because I ran at a 'slow' pace but it was actually quite punishing as I hardly train nowadays.
It was a mass start and I only caught up with Afiqah after about 5 minutes. She was walking by then. She started quite fast. If she had been slower and maintained her pace, I reckoned that she could finish with a slightly better timing.
Afiqah was 4th in the colouring competition.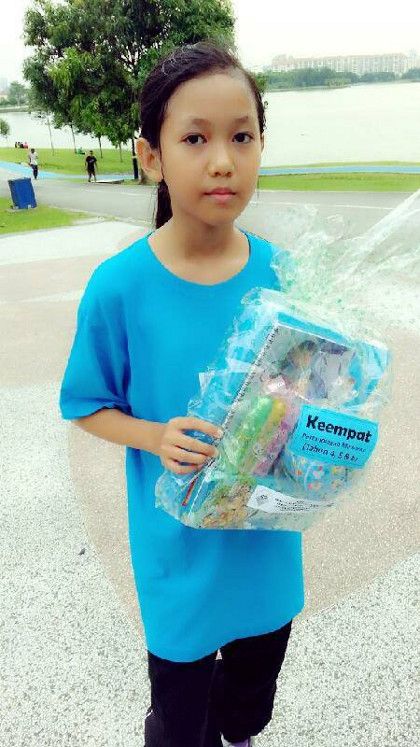 Afiqah with her prize for colouring competition
My student, Dominic was second for drawing competition. Aqil would have been in top 10 for Secondary Boys category if he was not injured. He was certainly much faster!