Buah tangan dari Koh Tarutao: 2nd Hat San Lang Mangkon Funrun
Date: 15 April 2014
Venue: Tanjong Po, Chebilang, Satun. Thailand
Distance: 4km on the beach.
Contact: +660-7471-1225
Website:
www.forrunnersmag.com
Actually I had be informed about this event after asking about
Tarutao Minimarathon
by Cik Umi. Since then I did not received any black+white about this event, so I keep it, takut silap information.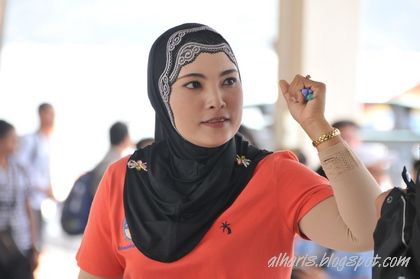 Cik Umi
While waiting our boat back to PakBara Jetty, Cik Umi and Mdm. Patchakultreephan (staff Tourism and Sport of Satun) remind me about this event.
Berlari 4km atas pantai ketika air surut. Start ketika petang pada 15 April 2014. Semua yang dengar pakat excited. Siap dah plan nak kompang kat kengkawan yang lain di Malaysia
Aku: Hari apa?
Umi: Selasa..
Duh!..
kepala aku dah set sekilo ketam kat jetty Chebilang
.
Sesapa yang free, bley pi try. Maklumat lanjut pada url diatas. Amik gambaq ketam skali :)
For more events, click here.
Labels: buahtangan, event, thailand