Buah tangan dari PakBara: 10th Lang Suan Mini Marathon
Ada banyak event form diedarkan di 4th. Andaman Half Marathon. Tapi kurang menarik dari segi jumlah kategori dan lokasi.
Cuma event ni
yang menarik perhatian dengan borang yang segak dan banner yang mengujakan. Walaupun 90% info dalam borang aku tak boleh baca.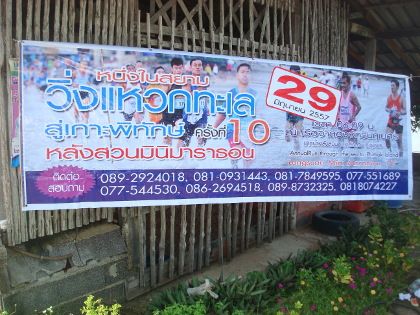 Antara maklumat penting diterjemahkan oleh rakan berbangsa siam di pejabat adalah..
1. Ada jamuan makan malam pada 6pm sebelum pagi larian.
2. Bangunan untuk penginapan disediakan (jika datang ala backpacker). Bawa alatan khemah sendiri.
3. Kemudahan pengangkutan dari Stesen Keretapi Lang Suan disediakan bermula pada 28/6 10am hingga petang
4. Kemudahan pengangkutan balik ke stesen pengangkutan awan juga disediakan hingga 4pm
5. Pendaftaran larian berdekatan replika Kapal HTMS Chakri Naruebet. Bermula 1pm hingga 8pm
..image from www.chumphon.go.th
Just share my net reading, if you planning to travel in Thailand by train then
The Man in Seat 61
is best reference. Inside, there is a complete
timetable State Railway of Thailand
by Thai rail expert Dave Bernstein including fare, ticket, map and other connection public transport such as van, bus and ferry.