Larian Bendang 2005
I said.. Wow! and Wau bulan!..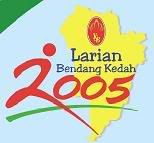 Larian Bendang 2005
(LB05).. Alot of improvements compare to previous years.
- Nice website/registration form design.
- Offer more medals, especially in 21km categories.
- More cash prize.
- Still using same and unique track - love it!.
The registration form and route map can be download at link above.
Hopefully the running event also well organise.
Thanks to the Chairman!