Group Ride
Last week send my rusty MTB for repair at Pekan Lama, SP. The owner memang kaki MTB. Ask me to join their group on weekend off-road ride. Can't la. Mine already expired. >10 years. Kaput/reput. Ini pon first time mai service. Cikgu used to ride with it around taman with kids.
Before left, pass him my card. To cantact me, if he know any road-bikers.
Saturday.
Morning, did a 10km run. Home - TSM - home. 25.44 + 22.24 = 48.08 and 50km bike on evening. Home - Eastern by-Pass - SP Selatan toll - SP Utara toll - Bandar Laguna Merbok - Eastern by-Pass - Tmn Jublee.
Cikgu brought kids to playground. Upon reached, she did 3km jog and i monitored kids playing. Then continue kayuh balik rumah.
Received SMS from SP Bikers.. ajak join kayuh esok to Tanjung Dawai. They got my hp# from bicycle shop. Canteeekkkk
Sunday.
Meeting point - Jetty Semeling @ 7:40am. Patut jeti ni jadi one of jetty (A.Setar, K.Perlis and Penang) to P.Langkawi... but maybe one of "Projek Sakit" then convert it to foodcourt and fishing. Pundek! Dig-cam - Ran out of batteries.
There were 6 of them excluding me. All veteran. >38 yrs old. Said hi + sembang and wait for another member. 8:15am. Kayuh to Tg Dawai thru kampung roads. Semeling - Sg Batu ñ Lembah Bujang - Deraka - Tg Dawai.
Just a slow ride. Chating with other members. 4 of them worked at Sharp-Roxy in SP. Not so many road-bikers in SP. MTB-bikers banyak.
It was different when riding in group. A lot of fun, more racing mode, and I could pedalled much more faster compare doing alone. From Bujang to Tg Dawai, jalan cantek, no cars and nice paddy field.
Tanjung Dawai. 30km.
Stop for breakfast at mamak stall. Then meet-up with Bedong MTB group. <20. Salam + chat. Majority of them staying in Bedong.. but i never seen them before. May be they using off-road kot. Then we pedalled together back to Semeling.
Half-way. My group speed-up tinggal geng MTB. Until Semeling, I left my group, said bye and turn to Bedong. They head to Jetty Semeling.
Nice group ride.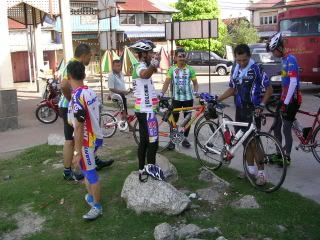 Sampai Tanjung Dawai. SP - veteran group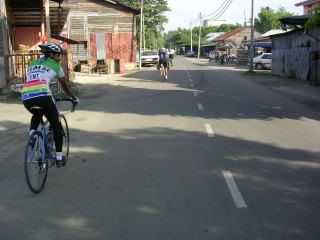 To mamak stall for breakfast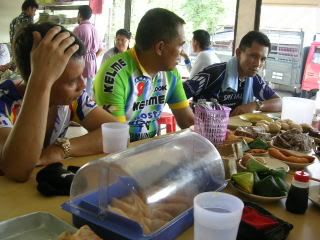 Left. Errr.. lupa nama, Brahim and Reza.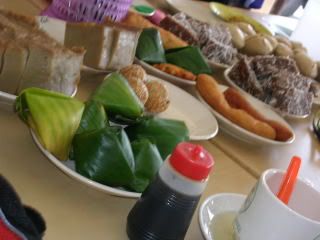 Toyu, pulut inti, bengkang, pak tongko and apam - burrrr!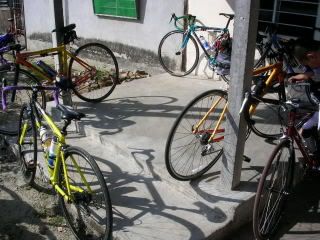 Gerek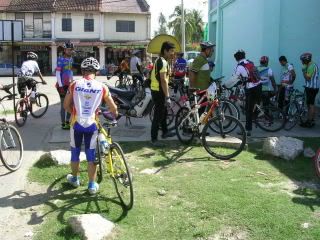 + Geng MTB Bedong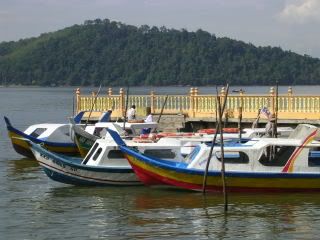 Tg Dawai jetty. The other-side - Pantai Merdeka. Still having Pesta Air Kebangsaan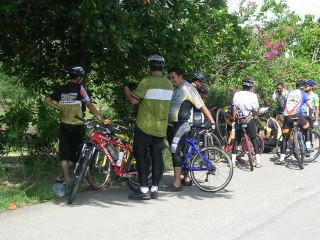 Geng Bedong. Tyre puncture.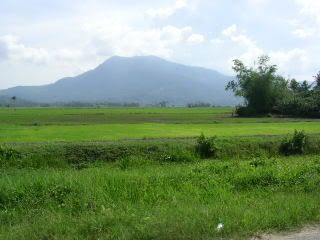 Mount Jerai
P/S:
Yesteday ada swim-bike-run at Karnival Air at Pantai Merdeka - Pap! pap!...peeek!
Went there on friday evening seeking for info - none!
Hello!!! put on website laaa... sekarang zaman IT maa..