Fight Back to School - Swimming Class 1
Registered for swimming class at club house - Bandar Laguna Merbok. The intructor named Mr. Goh, a certified swimming instructor with water safety macam CPR and etc. An swimming intructor by evening.. teaching kids and adult too.
After knowing a bit about my background as runner, cyclist.. and know zero about swimming...he laughing.
"What?.."
"I'm sure you will tenggelam"
For intro, before jump into the pool, he told about water safety. Faham pasang-surut air laut, not to camping/night too near the river or water will increaced if rain coming. Knowing the water depth. Different between in-door and open water. No panic in the water - even a pro can drown if panic. And etc.
2nd - Open eyes in the water.
If can't.. that person had a water phobia. That what he said. So he tested by showing the finger number under water and i had show it the same finger number without google. - Passed.
3rd - Hold the breath (in the water)
Nearly 2 minutes. Passed. He said.. average person took less than a minute. Yeah! i used be dived into sungai and tembak ikan after balik mengaji. Buat senapang pakai papan then mata harpon pakai jejari rim taya besikal. Not only ikan.. udang, katak and kaki - Ouch!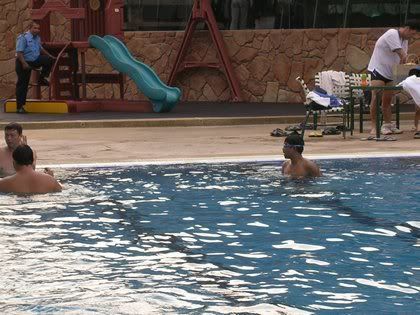 4th - Floating.
He ask me dive and hug both knees - like a ball. The theory is that.. bola akan melantun balik once you release it under water. In emergency case, transform(er) into ball and slowly akan timbul atas air.
I hold the breath, turn into ball shape. Do it twice, tierce, fourth and fifth... tengelam. Damn it! tak terapung!.
Another style. Do ultraman.. he said, after ball style not succeed.
Straight both hands and legs on water surface. No kicking. Relax and loose the muscle. Do it once, twice, tierce.. lost count. - kaki & pinggang mula tenggelam.
He said i didn't loose enough my pinggang and legs, packed with muscle. No lemak. If got lemak sure timbul punya and my body.. keras.
"Your body should lembut macam sotong"
- he's joking but I take it serious. He advice to train/try/practice again. If could (floating), then i could save some energy for stroking.
5th - Crocodile, slide-down into pool floor and stay under.
Kacang. As my body mudah tenggelam.
6th - Gliding.
Gliding from pool wall and floor. After 3-4 times managed to do it, especially from the floor. I tried more to get right body position for maximum momentum.
Gliding from the pool... couldn't get far as pinggang and kaki start to tenggelam. - Can't float.
End of first of twelve lessons in an hour half.