Tanjung Piai Eco-Run 2007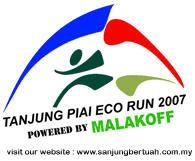 Date: 9 September 2007
Venue: Permas Kukup, Pontian, Johor
Distance: 21km, 10km and 7km
Website:
Sanjung Bertuah
Total cash prize RM80,000!
Tak salah aku.. Tanjung Piai is southern-most tip of Mainland Asia. Ada National Park plak tuh.
Dubbed the southernmost tip of mainland Asia, Tanjung Piai is a haven for a diverse species of flora and fauna, including those unique to mangrove areas such as mangrove crabs, beady-eyed mudskippers and crab-eating macaques. Tanjung Piai is also famous for being a hot spot for birdwatchers to visit during the migratory season which falls around September and March.

Located within the district of Pontian, Johor, Tanjung Piai is a place where the earth and sea, plant and animal life, live in blissful harmony. Tanjung Piai Johor National Park covers an area of over 926ha -- 526ha of which comprise of coastal mangroves. There are two entry points to Tanjung Piai - the one at Sungai Belukang and the other at Desa Sri Piai. - Virtual Malaysia
Hisshh.. boleh pi lari + melancong + tengok burung.
..thanks and do visit bola2api