Report: Walk For Buddhist Education 2009
Organizer: Nalanda Buddhist Society
Venue: Dataran Antarabangsa, Taman Rekreasi Bukit Jalil
Date: 27 September 2009 | 8.00am
Distance: 6km
I was looking forward for this event as the first competitive event to get myself adequately fit for the Borneo InternationalMarathon. I'll only be taking part in the 10km as my priority is not so much of racing, rather allowing the family enjoy themselves in Kota Kinabalu.
I was awaken by my pupil who was a volunteer in the event. It was already 5.45 when I had planned to wake up at 5.00 a.m. I hurriedly prepared breakfast, took my bath and performed my morning prayers. By the time I was ready to leave the house, it was already 6.10 a.m. when I supposed to meet my students at 6.10 a.m. at school. They needed to report by 6.30 a.m.
We reached Bukit Jalil Recreation Park by 6.40 a.m. Unfortunately, we parked at the wrong gate - Gate 2 instead of Gate 3. A quick walk to the venue took about 10 minutes. Once we met the person in charge, I walked back to Gate 2 and drove to Gate 3 as there were ample of vacant parking spaces.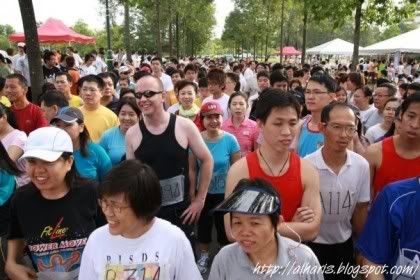 At the starting grid - A114, second row
After registration, I chatted with my students, showing them some of the participants whom I know. At that moment, I saw Suresh and told them he should be the champion if no other better walkers were around. After meeting Khee Meng and his brother, I was dreaming for the third place finishing, which was realistic enough. Khee Meng's brother would be faster but I would have a 50-50 chance against Khee Meng.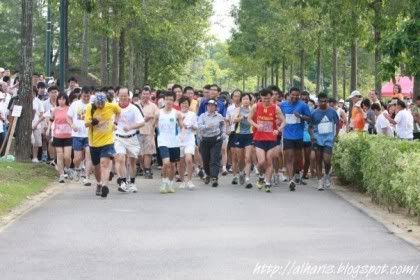 Moments after the start
When the race was flagged off, which was about 8.30 a.m., I was on the second row. The race started off with a great pace with Suresh leading, as predicted. He was closely followed by the others. Within the first 3 minutes I was more than 10th placing but hope to close the gap with the race progressing.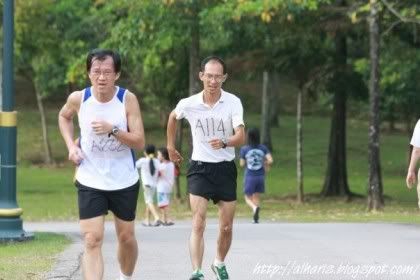 Hot on Mr Tan Khee Meng's heel.
My benchmark was Khee Meng. As long as he was within my sight, I should be doing ok. I managed to overtake him about 200 metres before we completed the first lap. My time was 17 minutes 47 secs. That meant it was pretty much underdistance. I did between 6:34 and 6:49 per km on Friday and I knew I could not even do a 6 mins a km pace. When my fitness level was better, the fastest I could go was around 5:45.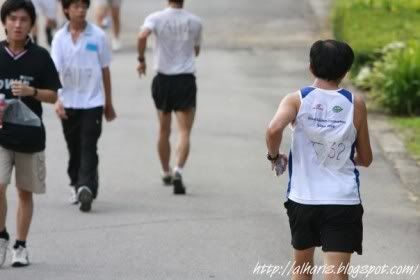 Finally in front of Mr Tan before the end of the first lap.
My student, who was on duty at the check point informed me that I was 7th when I completed the first lap. I thought I only need to check Khee Meng as the participants in front were already out of sight. I eased up a little going up the hill as my fitness level was still relatively poor - complete lay off during the fasting month. Khee Meng overtook me briefly before I stepped up my pace when going downhill.
Then I was a teenager in front of me. If I could keep up with him, then chances were I could finish 6th. I had to go faster and was hoping he would fade. That didn't happen but he was held up by the crowd who took part in the 3km walk. I managed to avoid that because I knew where exactly where the finishing point was. So, I did overtake him albeit by an 'unfair' manner. Got my 5th placing card and had to be satisfied with it. My total time was 36 mins 40 secs, almost 1:06 slower than the first lap.
When the final result was announced, I had a pleasant surprised by getting the 4th place. One of the finishers in front of me was disqualified. Frankly, I was taken by surprise to see so many good walkers. Those who are regulars in Starwalk or races organised by state AAA could be identified easily.
So, with the concluding race, it is still a jinx for me to have a podium finish in a charity walkathon. It can be quite frustrating, but then, the whole idea of taking part in a charity walkathon is for charity and not for claiming the top prize.
I can say that charity walkathon is much, much tougher than the Malaysian Masters Open which I was the champion in the 5km in 35-39 in 2007 and 3rd in the 40-44 last year in Kangar. Hopefully, I can maintain my podium finsih in Ipoh in November this year.
Actually, I was too busy to write a report on my two previous races - Adidas King of the Road and KLIUC run... You would not believe it that I went to Shah Alam Stadium for a half marathon race without a pair of shoes! Had to put on a thick face to ask friends - Mr Tey Eng Tiong and Mr Woon (Bukit Rimau) if they had spare shoes.
Finally, my student offered me his shoes - I guessed 2 size bigger than mine. He ran, or rather walk using my slippers which was almost torn! We managed to complete the race. My time was 2hrs 21mins 24secs which was within my targeted time of below 2 hours 30 minutes. But quite sad that I had missed the medals.
In the KLIUC run I finished in 51mins 12 secs. No medals but happy to over take one Chap Ayam runner. I find Chap Ayam runners are friendly and modest.