Report: Walkabrella
By Aiman Cheah
Venue: Central Park, Bandar Utama
Date: 6 December 2009
Distance: 3km non-competition walk
Organiser: KDU (Mass Communication)
This is a charity walk where the fund raised goes to Pusat Penjagaan Kanak-Kanak Cacat Taman Megah.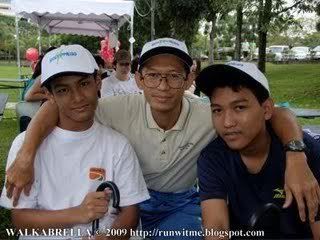 With my pupils - Syafiq (left) and Fiqri (right) - Picture courtesy of runwitme
If I had known that the event started at 9.00a.m. I would have gone much later. The tickets says 7a.m. - 4p.m.
A well organized event but should have more support from the public despite being able to enter into the Malaysian Book of Records for having the largest number of people to participate in the walk-for-a-cause with their umbrellas open.