8,000 runners expected to race through township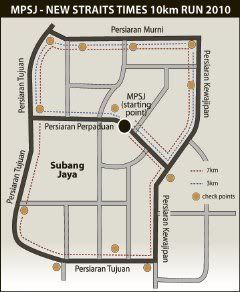 SUBANG JAYA: Participants in the Subang Jaya Municipal Council (MPSJ)-New Straits Times Carnival and 10km Run 2010 will be making their way through the main roads of the township.

With 8,000 runners expected, the run is scheduled to be flagged off at 7.30am by Selangor Menteri Besar Tan Sri Abdul Khalid Ibrahim on April 25.

The flag-off for all categories will be at the entrance of the council headquarters in USJ 5 and the finishing line is at the council's sports complex in Persiaran Perpaduan adjacent to the council's headquarters.

In the 3km run category, participants will run through Persiaran Kewajipan before entering Persiaran Murni and proceeding to Persiaran Tujuan and returning to the sports complex at Persiaran Perpaduan.

Participants of the 7km run will use the same route except that from Persiaran Tujuan, they will run through the Jalan USJ 11/2J and Jalan USJ 9/4 before going on to Persiaran Kewajipan and finally returning to the council's sports complex.

There will be 12 checkpoints and drink stations and nine emergency points that will be manned by the council's health department officers.

Runners for both the 3km and 7km are expected to return to the finish line between 9am and 9.30am at the council's sports complex.

The affected routes will be closed beginning at 5am on April 25 and will be opened by 11am in stages...
..read
more