Report: Tesco Walk for Schools
By Aiman Cheah
Date: 07 March 2010 | 8:00am
Venue: Dataran Merdeka, Kuala Lumpur
Distance: 4.5km (Walk)
Fee: RM10 (Adult) and RM5 (Kid)
I was looking forward to this walk although it was not a competitive walk. I went to collect the t-shirt by 6.30 a.m. as I do not want to wake my children up so early. It would be just right if I left home by 7.15 a.m. and took my wife to her class before heading to Dataran Merdeka.
When I reached Dataran Merdeka, the participants were just flagged off. Any way, there were still many who had just arrived and joined us. Mr Tey was busy taking photographs and took one for us.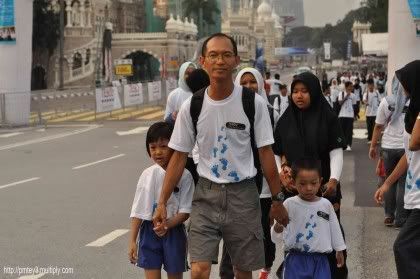 Picture courtesy of Mr Tey Eng Tiong
As the walk progressed, we were overtaken slowly. Mr Chandra offered us to take the ambulance because he 'pitied' Akmal. We were the last participants at that point of time. I was sure that he could make it. He had done 2.1 km a few times. No doubt that the distance for this event was more than double of what he had usually done.
I chose to walk along the pavement instead of the road. I don't quite like walking with the flow of the traffic. Afiqah was excited when she saw a caterpillar hanging down with its 'thread'. There were rows of hibiscus plants along the road and most of the leaves were infested with caterpillars. I pluck a few leaves to show them the caterpillars in the rolled leaves. We didn't stop too long and could still see the participants before us.
I was glad that Akmal wanted me to carry him when we turned into Jalan Parlimen. As I walk faster, we managed to close the gap witht the group of family of 5 in front of us. Finally we overtook them. Afiqah was so happy because we were no long the last and suggested that we should also overtake another group of family of 3. We did that just before we turned into Jalan Raja. I let Akmal walk to the finishing line to collect his own certificate of participation.