Report: Kordel's Charity Walk for Arthritis 2010
By Aiman Cheah
Date: 30 May 20010 (Sunday)
Time: 7.00 a.m.
Venue: Taman Bandaran, Kelana Jaya
Entry Fees (I would rather term it as donation):RM20 per person
Distance: 4.9km
This is one of my favourite events. I had some problems to assemble my team. I invited my FTAAA friend, En. Raiei and he agreed to join my team. His son and neighbour would be in my team. Unfortunately, he was a little too slow to sms me the details required.
When I went for "Larian Kubur", I was invited to join another team. I thought it would solve my problem, getting team members, doing registration and collecting the race pack. I happily paid RM20 and gave my details. A week later, one member pulled out and later the team leader followed suit.
It was back to square one. I then asked Mr Lee Hai Chin if he would want to join my team. He agreed and certainly his would would be happy to join me too. As the closing date was nearer, I asked another FTAAA friend, Mr Lee Choon Foo. He agreed and I was on cloud nine.
I had problem when I wanted to credit RM80 via CIMB atm in Jalan Barat. RM60 was accepted, and RM20 was stucked in the machine and the machine was out of order. I made a report to CIMB branch in Pear Point on 10 May and the bank officer told me they need a few days to investigate. Today is 7 June and I wonder if they really investigated. I had not heard from CIMB. I don't mind the RM60 as it was already in Cambert's account.
My curiosity is what is going to happen to the RM20. It may not be a significant amount. But then, if you have many cases and CIMB keeps quiet, is CIMB not equivalent to a robber.
I was quite prepared for the walk. It supposed to be part of my Ipoh Starwalk preparations. Our team did well to finish 4th. My team had finished 5th last year. Runwitme offered to take photograph for my team at the finishing line. Who would reject such a offer? Thanks runwitme.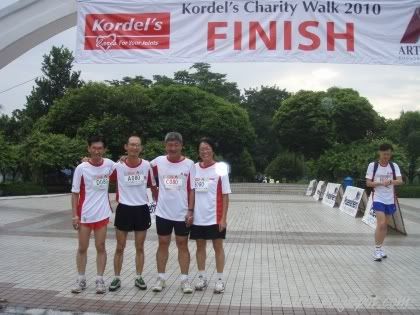 Mr C.F. Lee, Aiman Cheah, Mr H.C. Lee and Mdm H.L. Poh.
Picture courtesy of runwitme
This year, there was RM500 cash voucher for Kordel's product which can be purchased there itself. So convenient. The hamper was better than last year too. I guess I have gained more than what I have given. But then, it is still called a charity walkathon. Charity for the Arthritis Foundation and the participants.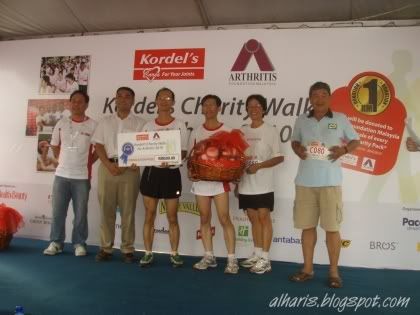 Picture courtesy of runwitme.
After all the problems, my team - 0080 is quite a lucky team. Mr. C.F. Lee won a bottle of 120 vegicap Kordel's Primrose MaxEPA and Mdm H.L Poh won a 3D2N stay for 2 at Holiday Inn, Glenmarie. That leaves me as the only less lucky team member?