Report: Roasters Chicken Run 2010
By Aiman Cheah
Venue: Sunway Lagoon
Date: 23 May 2010
Distance: 2.8km (7-12 years old)
I ran the 2.8km Female Junior category with my daugther and son. Definately hopeless to be in the top 50 for men. So, I helped my daughter to collect her second Roasters Run certificate. She finished 45th last year.
It was quite fun to run in that catergory. There were not as many participants as there were last year. I was quite sure she could be in the top 50. Not too tall an order to beat just about 20 other runners.
I was quite surprised because my son could managed about half of the distance. He ran until he was tired, then I carried him until he said he was ready for action.
I guess Afiqah finished around 45-50 again. The position card was not placed together with the certificate but it looked like there were just a few pieces of certificates left when she got hers.
The highlight of the day was the 'free' entry to Sunway Lagoon. We had a whale of a time although we had to leave at noon.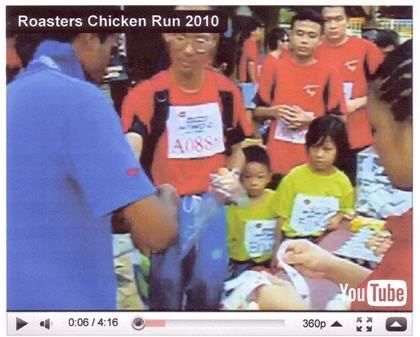 Collecting my wrist band for Sunway Lagoon entry. Picture courtesy of runwitme.blogspot.com