Kejohanan Renang "6th Novice Swimming Competition" 2010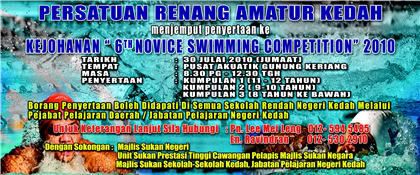 Date: 30 July 2010 | 8:30am - 12:30pm
Venue: Pusat Akuatik Gunung Keriang, AlorStar
Level: Primary school (<12yr olds)
Contact: 012-5945485 (Pn Lee Mei Leng) | mllee_joyce@yahoo.com
A swimming competition for primary school level. Offer various categories. I do not know whether non-Kedah able to join or not. If interested ring the number above.
Alauddin join the event last year (with previous result)
just for fun. I did not send him proper training - So kangkong lar...
Detail and registration form available to be downloaded at Forms and Events section