Report: Penang Bridge International Marathon 2010
By Aiman Cheah
Date: 21 November 2010 | Sunday | 3:00am
Venue: Queensbay Mall, Penang
Category: Half Marathon - Men Open
Result
Official time: 2:05:37
Complete result:
http://www.penangmarathon.gov.my/portal/
Net time: 2:01:26
09383m: 1:01:22
16566m: 1:42:24
This is a better running experience compared to the one that I ran in 2007. The organizer is certainly efficient. It was easy to register online, collect race pack, keep luggage and claim it back. Even when I enquired via e-mail, it was replied within 24 hours albeit one query was not accurately answered.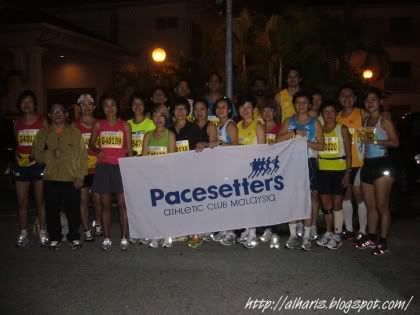 I joined Pacesetters Athletic Club Malaysia for the event and hats off to PACM too. The whole event was a pleasant one.
I failed to achieve my target of running a sub 2 hours but was very satisfied with the run. I would say that it was a lucky run to be able to do a 'good' run in the second half of the event.
I thought I was not too far from the starting line but I was wrong. It took me almost 4 minutes to reach the starting line. Immediately, I told myself to forget about the sub 2 hours target. I would not be able to achieve that. Even after crossing the starting line, I could not run yet... there were just too many participants.
When I reached thefirst distance marker of 2.7km (if I am not mistaken) it already took me more than 23 minutes. If I could do a constant 6min per km pace, that would be 11 minutes off my target. I told myself to enjoy the run because even from that distance, overtaking was difficult until after I had done half an hour.
The breeze was cooling and the thunder quite bothered me. The dark clouds were gathering and I just prayed that it would hang on for a while. When I made a u-turn at the bridge, I had done more than a hour. 9.389km in 61 minutes was definitely a slow run.
It was confirmed that I would never do below 2 hours. I was lucky that the mobile toilet was vacant. Took advantage for a pit stop. When I came out, the queue became long. How lucky was I to save so much precious time because I decided not to queue at one of the 3 mobile toilets on the bridge earlier.
I took power gel at the first water station. Then it started to drizzle. I could not plan for the next consumption of power gel because I do not know the point of the water stations. Ms Peggy Tan only informed me of the isotonic stations at 6.7km and 14km respectively and the bun station at 12km, drinking station at 2.5km.
Once it was raining heavily, I was worried that I might get muscle cramps as my right calf was giving signal much earlier. Blisters could also happen. However, as I was comfortable with my pace, I carried on. I thought it was pretty fast and I kept overtaking other participants more often than being overtaken.
I was very happy when I caught up with Kelvin Ng - the most consistent runner before the 18.3km mark. I stopped for the second packet of power gel at the last water station. I continued with my pace until the end of the race. It was a wonderful feeling to have a strong finish. 2:05:36 on my watch. I did almost 2:40:00 in 2007, but then the distance was further. Hopefully, I could maintain my fitness for the next three weeks before taking a long break again.
The preparation for PBIM 2010:
15/11 - 8.4km run in 46:48
16/11 - 8.4km run in 47:59
17/11 - 10.5km walk in 1:09:04
18/11 - 2 000m swim in 60 mins
19/11 - 12.6km in 1:14:14