Report: Jogathon Warisan
By Aiman Cheah
Date: 24 April 2011 | Sunday | 7:00am
Venue: Pejabat Urusan Perkuburan Kwong Tong, Kuala Lumpur
Category: C Men Open (19-49 years old)
Distance:11km
Result: no timing
Position: well over 30
I did not expect the race to start rather early. Last year, it started well past 8 a.m. I reached the venue just before 7 a.m. The participants had queued up at the starting line. I saw many school boys, I thought the boys would be flagged off first.
I went to have a little bit of stretching and warming up. The the race started. Since I don't really understand Mandarin and those around me did not tell me the race for the 11km had started, I took my time to go to the starting line. I had the shock of my life when I asked one of the fellow participants if the flag off was for all the 11km participants. Came the answer " just take the mineral water and bread, sit down and have breakfast!" OMG, if I had wanted that, I should have woken up at ten as I had been having sleep deprivation!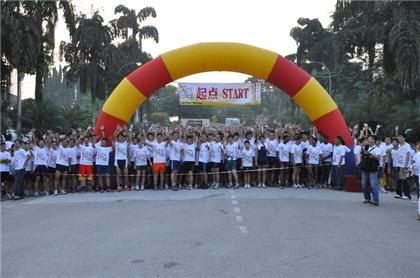 Before flag off
The start was real slow. I knew very well I would not have made it into the top 30 to qualify for a plastic finishing medal. I just enjoyed the race. It took me almost 15 minutes before I could catch up with those of my category - men open.
My watch stopped twice. May be it came into contact with fellow runners? Without knowing the time, I could not estimate my pace. Any way, it should be between 6.5 to 7 minutes pace because that was the pace I had been doing days before the race.
..about 50 m from the finishing line.