Report: Roasters Chicken Run '11
By Aiman Cheah
Date: 22 May2011 | Sunday | 8:00am
Venue: Sunway Lagoon, Bandar Sunway
Category: E Boys (7-12 Years Old)
Category: F Girls (7-12 Years Old)
Distance:2.8km
Result: 31:21 (Girls' time)
Position: top 50 (probably 40-50)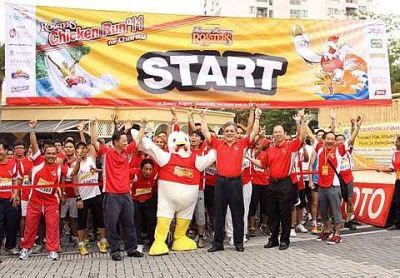 The start for Category A - Courtesy of TheStar
I have always enjoyed this run or rather after the run because it is a family outing. My children enjoyed themselves very much this time as I was able to spend more time. Last year, it was a bit rush as I need to pick up my wife after her class.
The zoo was good and it would be better if we could wait until the animal show. We left at around 3.00p.m. Went to Jusco food court and all the food seemed good as we were famished.
I started together with Akmal and Afiqah. That was the last start. I thought Akmal would have a chance because there were not too many participants. However, he had not trained for the distance. Afiqah did practice with me for 2.1km and her best timing was 17:28. It was kind of a relaxed pace - run and walk. That was about 8 minutes better than last year!
Akmal went a little too fast. I was worried because he lacked road safety awareness. I jogged together with Afiqah until I caught up with Akmal. When he was tired, I gave him a lift... not so easy for me as he is a little over 20kg. It was not for a long distance though... probably around 200-300m. Once he was down, he started to jog with me.
I knew Akmal would have a chance to be in the top 50 although he had about 5 minutes disadvantage when we overtook some boys after about 10 minutes. They were walking.
Akmal was exited when he completed the run because he got his certificate. Not a legal one as he had a ride from me. Next year, I would let Afiqah run alone. At 9 years old, she should be independent enough. Akmal should rightly claim his certificate with his own effort. I was sweating and felt a little tired after the run.