Report: KL Tower International Night Towerthon Challenge 2011
By Aiman Cheah
Date: 7 May 2011 | Saturday | 8:00pm
Venue: Menara Kuala Lumpur
Category: B Men Veteran Junior (40 - 49 Years Old)
Distance: 800m + 2058 steps
Result: 25.08
Position:62 (Men over all: 538)
Official result:
www.kltower.com.my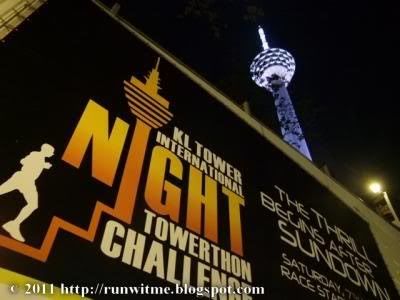 The majestic landmark of KL... courtesy of runwitme
It has been almost a month since the event was held but I think my report might inspire those who are not confident to try out this event.
I did it twice before without getting the best out of myself. Clocking near 30 minutes. With a little bit of discipline and listening to the body I managed to record my personal best this time.
I am certainly happy that my two colleagues, En Ravi and En Karuna made it too... both did well below 41 minutes. They did better than the expected time of 45 minutes!
I used the same strategy as they did... go slowly all the way to avoid over exertion and the need to stop.
I did the trial run too... from the ground floor and I did slightly below 4 minutes per 5 floors. I find that that was a good indicator to guide my performance. I used that to gauge my performance on the event day. I was hoping to do better than 29 minutes and certainly was elated with the time I did.
My gun time was 25:22. That means I took about 14 secs to reach the starting line. A reasonable amount of time as there were not too many people. In fact, I think my category had slightly fewer participants to start and that was my advantage although I started from the back... being a slow coach and trying to avoid being mowed down by faster participants.
Below is the break up of my time:
800m - 6:08
05th floor - 09:44 (3:36)
10th floor - 13:54 (4:10)
15th floor - 17:57 (4:03)
20th floor - 22:13 (4:16)
Finishing - 25:22 (3:09)
Seeing smaller parts of the race, I think I do have the potential to do slightly better in future if i still do have the same fitness.
I participated in the event as it is the first time it is held at night. Furthermore, I managed to persuade my colleagues to take part.
I enjoyed the race but I think there are two issues that TM can overcome to make it better. The first problem can be rectified easily albeit a moron handles the situation. The second problem will be based on past experience and the co-operation of the participants.
Issue 1.
When I collected the bib I was told that they had run out of size-M t-shirt. I requested for any other sizes as I do not want to go to Muzium Telekom again. The person in-charge told me that since I requested for sized M, they could not give me other sizes. That was impressive, I thought. They would deliver what was promised.
I WAS REDUCED TO A FOOL WHEN I COLLECTED THE SHIRT TWO DAYS LATER. The original XL on the label was defaced with red ink and a new size of "M" was written. Should I not in a hurry the person in charge would be my victim of abuse.
WAKE UP TM, I AM NOT TOO RIGID A PERSON. NEGOTIABLE BUT NOT MAKE ME A FOOL. I was not the only one... a few fellow participants share the same experience and now the whole world who read this report know about your unprofessional conduct. 'Cheating' not only in the organization of this event but also billing in your products and
services!
Volunteers or TM staff need to be careful next year as I would not let them off the hook easily if they were to fool me again. I shall turn the tables on them and see if they like it. Perhaps, I shall report it in our major dailies and ask for public apologies!
Issue 2
It was too slow to go down once you completed the race. One boy collapsed due to the heat and cramped area. Perhaps, the interval should be longer... Then, the participants need to be made aware of their group and the starting time.
I think they should have enough time to do that as they would have known the number of participants a week before the event. Why should a person who start at 10 p.m. made to come and wait from 8.00 p.m.?