Report: Rexona Men Adventure Challenge
Date: 23 July 2011 | Saturday | 8:30am
Venue: Taman Pertanian Malaysia, Bukit Cahaya Seri Alam, Shah Alam
Distance: 8km Category: Professional
Position: 35
Time: 48:25
The start.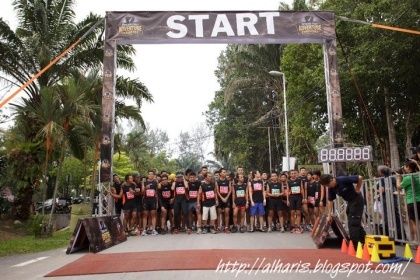 Picture coutesy of http://www.facebook.com/RexMenMY
This is one of the events that I have been waiting for as it would be a little different from the road races. So far, only the Genting Trailblazer offers some obstacles in the race.
The organizer made it easy to the participants with online registration and more importantly there is a choice of payment not by credit cards. I did not participate in races where payment is made via credit cards simply because I have none! Any way, those races are expensive so understandbly they are exclusive... not for any Tom, Dick and Harry to participate.
Since there were not too many participants, the event was easier to manage. There was no long queues - to report for the race and to return the timing chip.
I did reasonably well in the race. I would say it was almost up to 100% of what I could have done. I had chosen the professional category not because I am a professional runner but rather I would enjoy a longer race.
6km is a little to short considering I have to wake up so early and the venue is quite a distance. I would not have a ghost of a chance in the 6km so 8km would not make any difference. The only difference is that distance of more than 7km would entitle me to add to my Chap Ayam Runners Mileage Challenge !
I went back early after the race because my friends had the appointments after that... I had to take my iron horse to the workshop too as the trottle cable snapped on my way back the night before. I guess pushing the bike for a good 2km had given me the added practice for the race... and robbed me off of 1 hour of sleep!
The result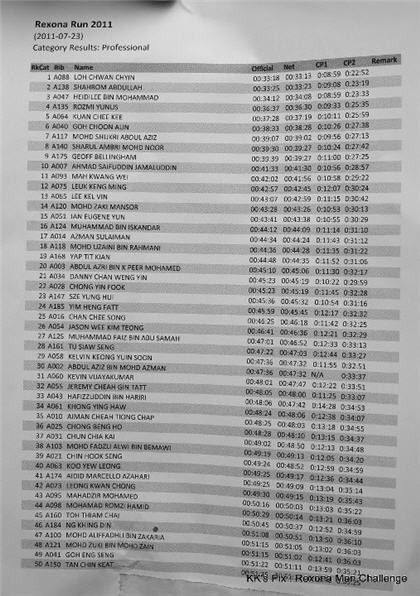 Picture coutersy of 2009tonton.blogspot.com and KK Yum who had supplied the result to Mr Moey.
The only complaint that I have for this challenge is the the unwillingness of the organizer to release the full results. Even the top 20 results in the facebook took 2 weeks. Unregistered running club like the Der Pacemakers published the results of their run on the very same day...
Cargo net wall obstacle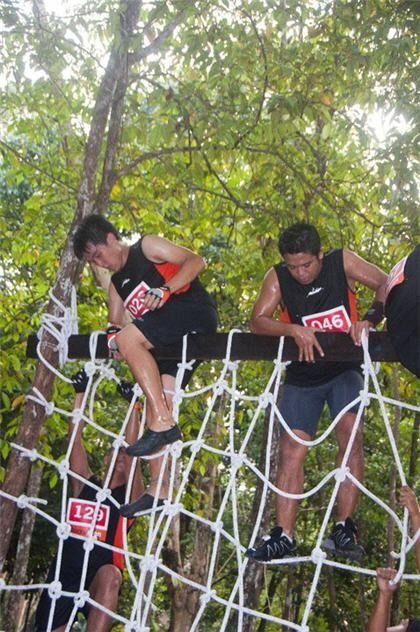 Picture courtesy of http://www.facebook.com/RexMenMY
Cargo net wall obstace. I was held up for a while waiting to go over the net. The most 'dangerous' obstacle in the event.
Pro winners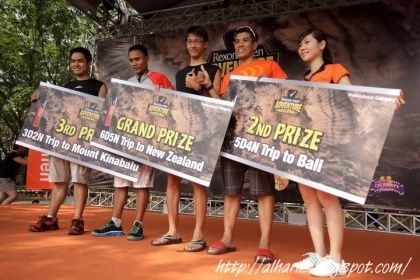 Amateur winners