Report: Seremban Half Marathon 2011
By Aiman Cheah
Date: 24 July 2011 | Sunday | 6:45am
Venue: N.S. Padang, Seremban
Category: Men Veteran
Distance: 21km
Position: ?
Time: 1:51:56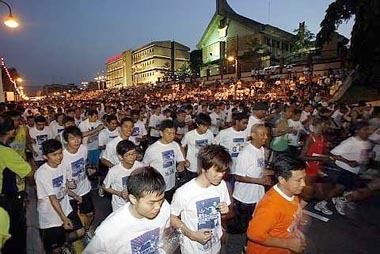 In huge numbers: Runners at the flag off of the Seremban Half Marathon. Picture courtesy of http://thestar.com.my/metro/

A good event as I had extra practice a day before with the
Rexona Men Adventure Challenge
. However, I had thought of skipping this event as I was rather tired the whole week. With the motorbike trottle cable problem and after the Rexona race my body was aching... I was glad than a motorcyclist offered to push my bike to the nearest workshop.
Before I could thank him, he had left me once he saw the workshop. He was an Indian. The night before, it was two Malay motorcyclists who offered to give me a push... so when talking about race, I think unity is still very much alive in Malaysia. May God bless them. I made a mistake to be on duty at Larian Merdeka on Saturday afternoon. Having some extra sleeping hours would obviously make me fresher.
I managed to wake up by 4.30 a.m. on race day because I hit the sack by 9.00p.m. My target to leave the house by 5.15 a.m. was achieved. I started the race 5 minutes late in 2010. This time, I reached the starting line by 6.25 a.m. Ample of time before the race started. Did the usual stretching while waiting for the race to start. There were not too many participants so starting right from the back did not pose a big problem. The wide road gives ample room to move forward with little obstructions.
I started slowly as usual but I thought it was still too fast for my exhausted body to cope. I was a little worried when my right calf started to give signals for muscle cramp just a little over 8km. There was more than half of the distance to complete. As the race progressed, the signals came and go and prayed that I complete the race within two hours.
Before the final water station I was following Mr Yim Heng Fatt (Chap Ayam Runners team mate) and Mr Lee Yee Sum (PM12). Finally I overtook Mr Lee after biting the dust for 1 hour 23 minutes. I knew I would not be ahead of him for too long as the cramp signals were getting stronger. As I slowed down to 'pit' at the water station, Mr Lee swoop the cup of water like an eagle. I tried to chase him but to no avail. It was really frustrating and I had to calculate to see if I still had a fighting chance to finish the race in 2 hours.
As the 21km route merged with the 11km route, the crowd and the traffic made the race more challenging. I had to stop a few times when going uphill. My legs just could not take it anymore. I jogged slowly and walked to maintain the momentum. I was glad that I did manage to complete the race within 2 hours albeit the route was a little under distance. It had been almost 3 years since I could run below 2 hours for a half marathon.
I was happy to have met my university course mate at the field when queuing for drinks. Mr James Louis is the man who is responsible for making me to be among the better racewalkers. Had he not invited me for the Malay Mail Big Walk in 1999, I would not have gone on to be among the top 30 consistently in the 20km Malay Mail Big Walk. (Of course, I was no where for the first two years!)