Report: Giant Kids Run
By Aiman Cheah
Date: 16 September 2011
Venue: Metropolitan Park, Kepong
Category / Time / Distance:
4-6 years old / 7.30 a.m. / 700m (Akmal)
7-8 years old / 8.00 a.m. / 1600m (Afiqah)
A good event for children. More of the side events rather than the run itself.
I think the race is not 'fair' as there were too many participants. The running route was narrow. Naturally, the ones starting at the back would be very badly disadvantaged. I took care of Akmal and my wife was the manager for Afiqah.
Perhaps, it would be better if the organizer divided the participants into a few starts… the event would take a longer time but then I think it would be safer. I was told that there were a few participants who had bad fall espeically the older kids. There was no bad incidents in the 4-6 category. Kids are young and the stakes are low.
Akmal enjoyed the race but what he enjoyed most was the pony ride. In fact he went for the second round with his sister!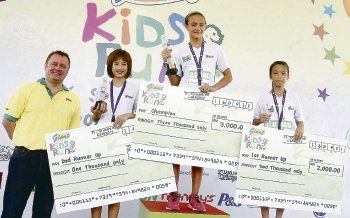 GCH Retail (Malaysia) Sdn Bhd merchandise director of food division Ian
Cruddas (left) with the winners of 11-12-year-old girls' category. Photo from
www.nst.com.my

More official full results at
www.giantkidsrun.com.my