Report: ISKL Walk For Children
By Aiman Cheah
Date: 26 February, 2012 (Sunday)
Time: 8.00 a.m.
Venue: Padang Merbok, Jalan Parlimen, Kuala Lumpur
Category: Men Open
Distance: 5km
Position: 5th
Time: 35:09
It has been a long time since I can convince many people to an event. All my family members participated. My colleagues and their friends made it five. It could have been ten if my student also join us. However, he got a better race - Bukit Kepayang Blossom Run where he finished 8th.
The organization of the race was quite good. I was given the wrong bibs when I collected for my children. Instead of giving the 1.8km bibs, they were given 3km bibs. Likewise, I were given the 3km bibs but for sure I know it must be black and red so no mistakes on mine and my wife's bibs. Later, I asked my wife to change my children's bibs so as not to confuse the marshals over the distance they need to do.
I started at the third row. Those on the second row were the participants of the Explorace the day before. I was a little frustrated after the flag off. They were blocking me and as usual the top walkers left me biting the dust. They have always been the explosive starters.
By the time I overtook those on the second rows, I was already a good 50m behind. I was 6th going onto the road. The one ahead of me got a caution for floating and he abandon the race. I tried to keep pace but could only overtook the top female open after 10 minutes. After 20 minutes I ran out of steam. Hilly terrain is my worst fear and I was just strolling up the hill. Luckily those behind me had the same problem…
There were no pressure when I decided to slow down. Prizes were only for top 3 finishers. It was a clean race. Disqualification might not happen.
I was surprised that 5 prizes were given out in the end. Not only did I get a hamper, I also get a Quantum Science pedant. That's a lucky day for me!
Men Open Results – Click for XL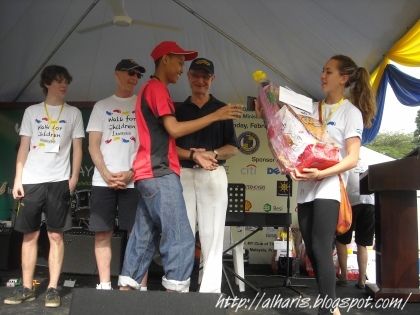 Men Open Champion - Muhamad Fazly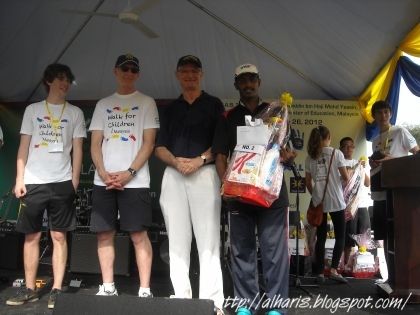 Men Open 2nd - G. Suresh Kumar
Men Open 4th – Raiei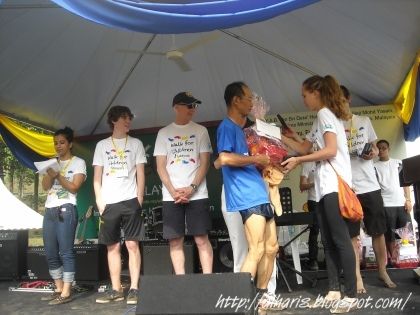 Men Open 5th - Aiman Cheah
Some of the winners - 5km and 3km
Pictures courtesy of G. Suresh Kumar