The Man Who Survived The Desert
"I love the desert, it's stronger than me, I cannot stop feeling like this and I respect it. I think that's the only reason why it saved me from a certain death!" – these are the irst words Mauro Prosperi pronounced after surviving nine-days lost in the Sahara Desert. This terrible experience occurred to Mauro, 51 years old, former pentathlete of the Italian 1984 Olympic Team, during his 1994 participation in the worldwide endurance event known as the '
Marathon Des Sables
', a terrible and exhausting race of 6 days and 233 km.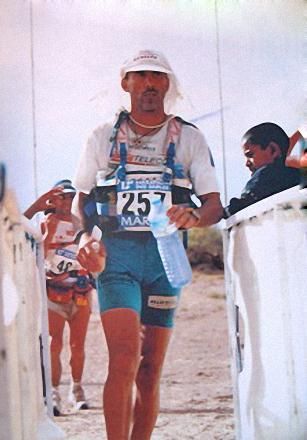 The athletes who participate in this competition run more than five and a half marathons in a single week, suffering inhuman physical conditions of endurance in the tremendous 50° C heat, demanding immeasurable stamina and inner strength.
It was on the third day of competition when Mauro was unfortunately caught in a fierce sandstorm, becoming completely disorientated and losing his sense of direction. When he realised he could never regain the right path, he decided to send the agreed S.O.S. signal, firing the emergency lare gun in the air.
Unfortunately neither any search helicopter nor any member of the race organisation came to his rescue. He had already travelled much too far in the wrong direction and was now alone with his terrible nightmare.
He kept running as long as his energies allowed, but the situation became desperate, when his daily stock of water and food ran out. Mauro's efforts to stay alive had been tremendous to the extent that when he realised he was near to death and there was nothing else he could do, he decided to give in to avoid a more painful end.
He gave up and cut his wrists with a penknife to speed up and ease the process of dying. He lay down on the sand, exhausted, waiting for death to come; he lost his senses…. but fortunately he didn't die, the effect of dehydration resulted in his blood thickening and clotting his wounds.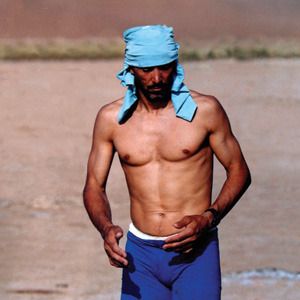 Thanks to God, Mauro woke up again the next morning; the realisation that he had come so close to death was a crucial experience and made his fight for life stronger than ever; his mind changed and he committed himself to survive in order to be able to return to his family who still needed him.
After 36 hours he ran out of food and water. He survived by collecting and drinking his own urine. He ate raw bats, found in an abandoned mosque, lizards and snakes occasionally found in the desert. And he kept running. After 9 days in the desert – and having entered unwittingly into Algeria.
Mauro Prosperi was found by a nomadic family of Tuareg and taken to an Algerian military camp and then to a hospital. He was 200 kilometres off-route, had lost 18 kilos in weight and started to suffer serious liver function problems.
His nightmare had at last came to an end and only now could he rest and concentrate on a complete recovery. "I don't know how I could find the strength and the mental lucidity to resist such critical conditions; I was out of water and had no more liquids inside my body, no more energy to sustain my legs and to help me remain conscious.
I was sure I was getting closer and closer to death but the more difficult the situation became, the much stronger I felt inside. It was like discovering a hidden strength in the bottom of my heart, inspired by my will of living but generated by my inclination to face big efforts and critical situations, physically and mentally.
In fact before becoming a desert runner, I've been a modern pentathlete for many years. I've competed at both national and international level in this sport; I won 3 individual Italian titles, some international competitions, I took part in several World Championships and in 1984 I was part of the Italian Olympic team being the reserve athlete at home.
This tough and complete sport which require sand forges unique skills of physical and mental preparation, strength and endurance, let me have the possibility to go beyond my human limits and to resist even the worst physiological conditions.
Modern Pentathletes, both in training and in competitions are used to never giving up till there's a possibility to go on; when I was competing the one-day competition format hadn't been adopted and pentathlon events lasted 4-5 days; this caused the athletes remaining focused and determined on their final goals even when they're still far, improving the pentathletes' concentration abilities, despite the many difficulties.
My coach used to say – the competition ends up only after the last meter of the final event, which is the running; before it anything can happen, so never give up and go ahead towards your goal!! These words had sounded within me while I was taking part to the toughest competition of my whole life, wandering into the desert in the search of any kind of assistance. Now I can say that what I needed was right here inside myself, deep alive in my heart.
"Pentathlon always taught me how important it was to have respect for our own opponents, this time my rival was the desert, an immense and almost invincible one, only by respecting it I found the strength to never give up and the possibility to co-live with it even in terrible conditions".
From his own words it seems that Mauro considers the desert a living entity which is able to understand who loves or hates it; the desert recognised that Mauro paid a deep respect to it even if it exposed him to incredible suffering; living through this suffering made Mauro stronger inside and gave him the chance to survive as a reward for his reverential and respectful behaviour.
After his tough experience in Sahara Desert, Mauro became a hero in his country, but on the other hand he had to suffer liver and kidneys malfunctions; later on he succeeded in recovering his usual eficiency and once back to his own normal condition he couldn't avoid opening again his heart to the desert's call.
Four years after his dramatic participation to Marathon des Sables, Mauro Prosperi returned to compete again in that event - "It was a very bad and terrible experience," he said, "And yet it was a great one. I am a competitor," he explained, "I love the nature and I love the desert; I could not stay apart from it too long; that's why I'm back".
..from Pentathlon Magazine 2008
Labels: info, inspiration