Report: Jogathon Warisan
By Aiman Cheah
Date: 22 April 2012 | Sunday | 7:00am
Venue: Kwong Tong Cemetery OfficeCategory: Men Open
Position: Well over 20
Time: Amost 64 minutes
I have been telling those whom I helped to register for the event to turn up early. Last year it was 7.00 a.m. The year before it was almost 8 a.m. This year it is well past a quarter past seven! You can never predict the actual starting time... Probably I was very early this year after starting late last year.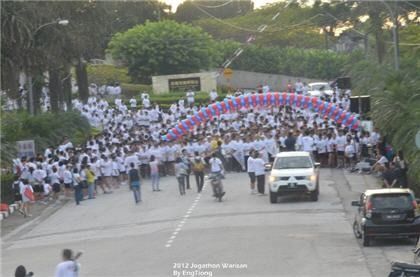 The start
I started somewhere in the middle of the pack. I knew very well I have a fat chance of landing my first ever Jogathon Warisan medal. Training was almost non-existance during that week.
The start was manageable although I had a lot of runners obstructing to have a good run. The real test started once we entered the cemetery site. Even at my best fitness condition, I just could not handle hill run. I went at a slow pace, still I stopped when making the u-turn. And guess what, Mr Tey Eng Tiong took my picture!
Out of breath
I made another 4 stops before I crossed the finishing line. If I could keep up with the rest, perhaps, I would still be in the top 50 because when I reached there, the runners with their finishing disc were still queueing to get their particulars recorded by the recoder on duty.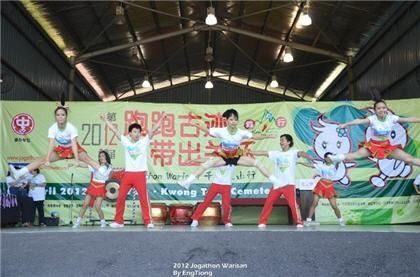 Cheer leading
I headed home afer the race and missed the 'variety show'.
Pictures courtesy of Mr Tey Eng Tiong