Report: Larian Bendang Menara Condong
By Aiman Cheah
Date: 8 April 2012 (Sunday)
Time: 7.00 p.m.
Venue: Padang Speedy B, Teluk Intan
Category: Men Open
Distance: 21km
Time: 1hr 55mins 25sec
Position: 71
Glad to do a sub 2hours after slowing down with 7km to go. The first 10km was done in 55 mins. Leg muscles felt tight but could continue with the same pace. My pacer was actually our famous sarong man, Mr Yim. I have always admire him..... very strong a steady pace.
I could follow him until we went back into the main road. I guess he must have finished the race at least 10 minutes earlier than me.
The race was well organized with 3 water stations at 5km interval but unfortunately, the slow runners had no water to drink after finishing the race. I was saved by
Mr Max Lim
who sacrificed his bottle of mineral water.
The shower given by the firefighter was good but it was certainly not good fore me. I detoured into the firestation compound to avoid the shower. Old engine like mine may stall with sudden change in temperature!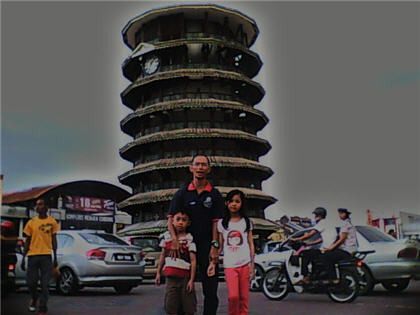 At the Leaning Tower of Teluk Intan before going to the Night Market nearby.
Pictures before the event
http://www.youtube.com/watch?v=gqwphXfBc4o
Video clip during the event by Max Lim
http://www.youtube.com/watch?v=hmuMZhdSU5g&feature=related