Report: Walk for Health (World Stroke Day)
By Aiman Cheah
Date: 28th October 2012 | Sunday | 8:00am
Venue: Taman Tasik Titiwangsa
Distance: 4.5km
Position: unrecorded
Time: 28mins 47secs (1st loop 9mins 22secs, 2nd loop 9mins 42secs, 9mins
43secs)
This is the second time I walked 'competitively' since I suffered from Transient Ischaemic Attack on
9th May 2012
.
I did Ipoh Starwalk in June but I was 'struggling' to complete it within 100 minutes. Likewise I walked instead of ran during HIV/AIDS Hope Awareness Run in Putrajaya on 23rd June 2012. In both events, I walked at the pace of 10 minutes a kilometre, a far cry of what I used to do at 6.5 minutes a kilometre on the average. I ran at slow pace in Taiping International Marathon (illegal runner, as pacer to my kids) and Be a Runner Be a Giver Charity run in September.
As this is a charity event, race walkers were not around except Suresh who took it as part of his training for the coming Asian Masters Championships in Taipei next week.
In the first lap, I led briefly before Suresh took over the lead and the rest was history. However, he was within sight when he completed the first lap and there was no other walker who was close to his speed between him and me. Only a young boy on a bicylce kept exchanging the second with me until the completion of the first lap. As 'traffic' was heavy, I was not aware of the boy's position as I had to be alert of
other park users.
At the completion of the third lap, I thought there was only one prize for the winner. I was asked to report to a volunteer with a smart phone. He as trying to record the time and I told him 28 minutes 46 seconds and he agreed. I thought the organizer had a new system where they can get the participants' particulars. Not to crowd at the finishing line and distract them from their duty, I left to collect my bag. At Running for Sight, the person in charge came to me to take my particulars.
I chatted with Suresh while waiting for the prize presentation. The prize resentation started with category D - others, normal people. The second winner was not me by recorded a similar timing.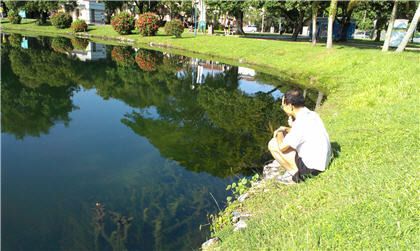 Picture taken by Suresh. While waiting for the prize presentation. Partly hidden is Akmal.
Later, I asked Suresh how the organizer knew his name. He said the volunteer had asked for his particulars. I was a little disturbed because I needed to know if I was disqualified or there was a mistake done by the volunteers. I asked one of the volunteers and was referred to another who could not find the person responsible for the finishing.
I wrote an e-mail and posted in the
facebook
on 29th October I get a call from NASAM to congratulate me and asked me to go to their office. I am glad that it was a mistake and not a disqualification. I am taking this opportunity to thank NASAM for a brave decision. It is certainly not easy to admit mistakes at the finishing line. It will be a lesson so that errors at the finishing can be minimized in future events. The one adopted by ISKL is a good one. The winners are asked to report to a person in charge before announcements were made.
Well, this turn out to be a better organized event than Be a Runner Be a Giver. Surely, I will support NASAM events - my favourite being the Guardian Charity Walk!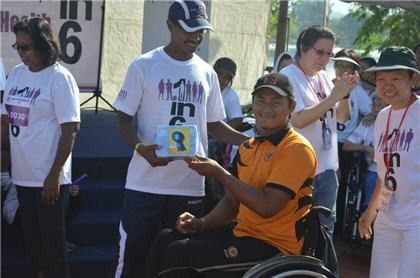 Category D champion - G Suresh Kumar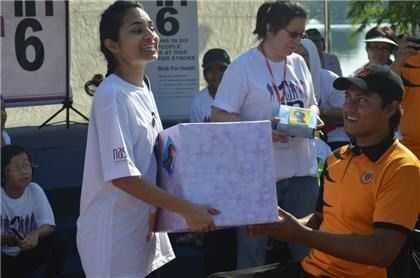 Category D 2nd
Category D 3rd
All pictures courtesy of
Mr Vincent Khor
.