My Next Thailand's Running Event
Conjunction with school holiday next month, planning to do family trip + running activities again. Like we did in
Yala on Sunday, 30 September
. Luckily the school declared 'cuti peristiwa' on that Sunday (fyi, Sunday is school day in Kedah) else I felt guilty brought kids together to Yala.
Got two events within reachable driving distance on this coming December. I don't know exact event name.
1. Trang. 14km and 4km fun run. 2 December, Sunday,
I saw this banner while in Yala and form given by Alex during his racing at Nakhon Si Thammarat 14 October ago.
Click on image for detail
2. Hatyai. 4km. 5 December, Wednesday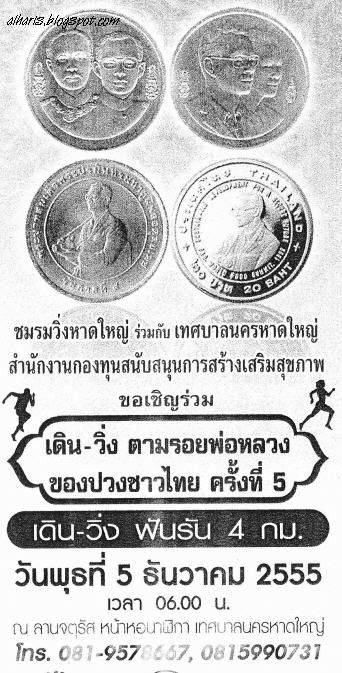 Click on image for detail
Grab this event form after finished ran
10.5km Mahidol Day run
. Normally all running event in Thailand held on Sunday but this one - Wednesday.
Planning to join both - a 5D4N in Thailand... for that, i need to posa for some local events, especially those imposed late fee registration.