Walk For Health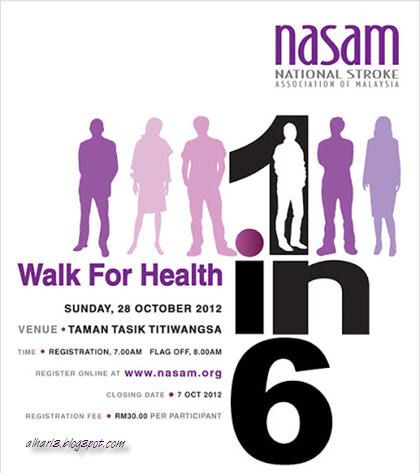 FOR the first time this year, the National Stroke Association of Malaysia (Nasam) will join its global counterparts in participating in the international World Stroke Day through a Walk for Health walkathon on Oct 28.

The campaign, themed '1 in 6', aims to bring awareness to the critical reality that one in six people worldwide will be stricken with stroke in their lifetime — and in every six seconds, someone somewhere, regardless of age and gender, will die of stroke.

"It is our solidarity march to disseminate vital life-saving information and knowledge about actions and lifestyle behaviours that can effectively avert attacks of stroke," founder chairman Janet Yeo said.

The campaign is also aimed at providing awareness and educational opportunities to the public on the fundamental need for appropriate and quality long-term care and support for stroke survivors, including the empowerment of care-providers.

Nasam will host two key events to promote this year's campaign message — the Walk For Health event and the premiere of Against The Wind, a documentary that chronicles a three-year period, the daily struggles and tenacity of eight stroke survivors in continuing with life.

"Our goal is to engage in the spirit of togetherness by encouraging the participation of our nationwide centres in celebrating and honouring stroke survivors, caregivers, and their families on World Stroke Day,"
said Yeo.

Nasam is targetting 500 participants — stroke survivors, caregivers, friends and supporters of Nasam, and the public. The event will also include health check booths, information counters and health-related activities.

"Stroke is the third leading cause of death in most countries, and one of the primary causes of long-term disability," noted Yeo. "We urge the public to participate in this event and learn the facts about stroke."
There are 5 location to choose.
Pick one
.
1. Klang Valley - Taman Tasik Titiwangsa
2. Malacca – Bukit Baru Public Field
3. Kuantan – Taman Pertanian Sultan Haji Ahmad
4. Perak – Taman Rekreasi Sultan Abdul Aziz - Padang Polo
5. Sabah – Likas Jogging Trail
Source:
TheStar - Metro
..from Aiman Cheah