Report: 1Malaysia 1km Walk 2012
By Aiman Cheah
Date: 9 December 2012 | Sunday | 7.00am
Venue: Dataran Putrajaya, Putrajaya
Distance: 1km
Boys under 12 years old: Akmal Cheah - 13th
Girls under 12 years old: Afiqah Cheah - 11th
Detailed results at
www.racewalkermalaysia.com
.
My children only 'trained' for two days. It is best to blame the weather because it never failed to rain in the late afternoon.
When I went to Putrajaya, I just wanted them to enjoy the walk. Only 15 finisher medals were offered and I told them just to aim for the 15th position. Both were lucky because only 16 boys and 17 girls registered for the events.
Akmal was likely to miss the medal because lacking in focus. He was not only last in the JDP programme for the past two years but a good 200m or more behind the second last participant.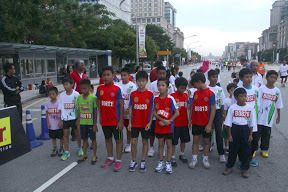 Akmal at the start
I broke the rule this time as I paced him after the start. He was very excited because this was the first time I paced him in an event. I asked him to slow down as I was sure he would run of steam at such a demanding pace for him. He never had train at that kind of pace.
He was last before half way but slowly and steadily closed the gap and overtook 3 participants. Well, the boys were of his age too. As long as one was far behind, the medal was secured. With about 30 meteres to go, I left him. He did lose focus and slowed down and almost being overtaken.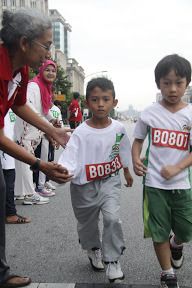 Akmal barely ahead at the finishing line
The next start was for the girls. I felt Afiqah would have a more difficult task as she had to be ahead of two participants. She started fast and I had to slow her down. It was better to keep a steady pace. I paced her at a comfortable pace for her. She did well, probably encouraged by her brother's performance earlier.
After half way, her position was already secured so long as she could keep up with her slow and steady pace. Akmal followed her in the last 300 metres although my wife had asked him not to walk with Afiqah. Of course he was slower because he did not run...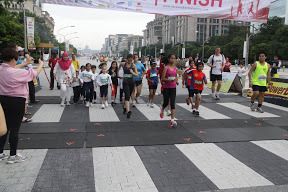 Afiqah already 10-15m behind right after the start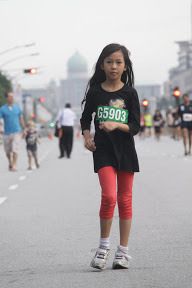 Afiqah towards the finishing line.
The real reward was not the finisher medals but to 'balik kampung' after the event.
Pictures courtesy of
racewalker malaysia
. And more news on
12-hour walk in StarMetro
.