Report: 3rd Milo Walk Circuit
By Aiman Cheah
Date: 06 October 2013 | 7.30 am | Sunday
Venue: Taman Botani, Kuala Lumpur
Aiman Cheah
Category A Men Open (18 and above)
Distance: 10km
Time: 1:22:44
Position: 6
Afiqah Cheah
Category H Primary Girls 10-12 years old
Distance: 2.3km
Time: 17:53
Position 5
Full results
.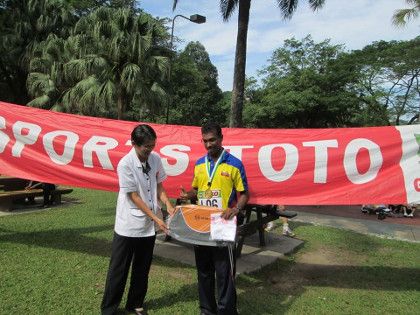 The Champion in the 10km walk, G Suresh Kumar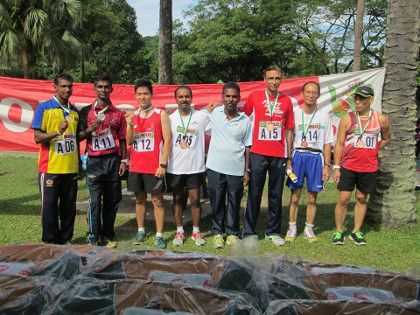 The 10km Men Open Winners
It was a last minute registration for me as I was not on duty. With 10 finisher medals offered, there was nothing to lose as there were only 8 participants. Registration was also at a minimum of RM10.
It was one of the most difficult races that I had encountered. I almost gave up with 2km to go. I had dropped my pace to leisurely walk a kilometre before that.
My nearest rival caught up with me with 100m to go. I had about 1km gap 3km before the finish. I gave a final push and luckily I did not have muscle cramps. 10km has become a 'very long distance' for me at the moment.
Afiqah Cheah with her medal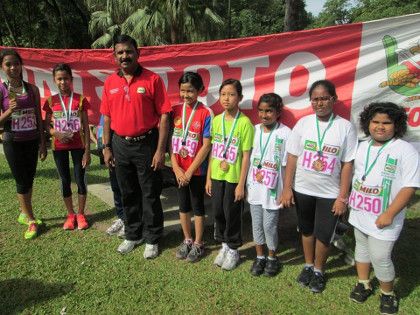 Girl 10-12 years old winners
Afiqah did slightly better than the 2nd circuit. Akmal would be among the top 10 if he did not have stomache.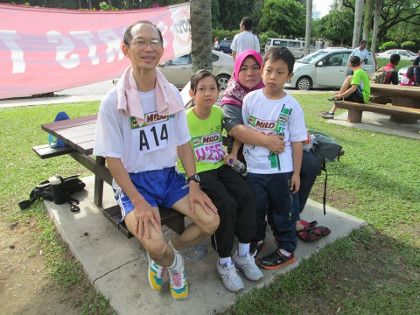 After the race
Pictures courtesy of G Suresh Kumar.