Larian ASJC kali ke-31 2014
Date: 07 June 2014 | Saturday | 5:30am
Venue: Aor Star Mall, Alor Star, Kedah.
Distance: 22km, 10km and 5km
Closing date: 22 May 2014
Website:
www.facebook.com/AlorSetarJoggingClub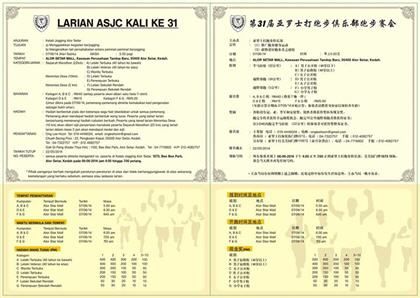 ..small image from www.facebook.com/AlorSetarJoggingClub
I guess in Kedah.. This is the only reliable running event (running with auto-pilot mode) and organized annually by Running Club - ASJC. But.. after 31th times, still not very tempting for me because 2 categories offered for Men and 1 for women in 22km.
And for muslim runners, Subuh is
5:40am@7June
- Ample time for solat. Anyway... I'm ON. Mau racun?.. read my
2005
,
2006
,
2011
and
2013
report.
For more events, click
here
.
..from www.facebook.com/AlorSetarJoggingClub