Report: Surat Half Marathon 2016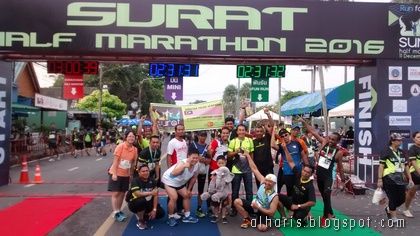 Surat Half Marathon
Tarikh: 10-12 Disember 2016
Tempat: Suratthani, Thailand
Jarak: 21km, 10km dan 5km
Abdul Haris Shariff
Position: 70
Bib: 0922
Category: Male 40-49
Time: 1:57:11 (Off.Time) 1:57:05 (Net.Time)
Runcation = Run + Vacation. Anjuran ke 3 oleh Run.Mix.Burn! selepas
Khanom Marathon
dan
Pong Yaeng Trail
.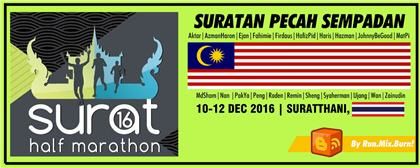 Kena rasuk oleh laman FB penganjur dengan keindahan medal dan baju. Kemudian terkena santet Kwansai semasa berlari di pantai
Khanom
. Depa buka kaunter pendaftaran disitu dan bagi pegang medal + test pakai baju event - cair teruih.
Rasanya.. kami merupakan wakil dari Malaysia. Ada rakan2 yang belom dikenali, ikut bersama. Ada rakan yang tak pernah berlari, ikut serta dan rakan yang cukop lama tak lari, ikut berlari kembali.
Sabtu - 2 van. Kami pecah kepada 2 kumpulan - 2D1N dan 3D2N.
Suratthani.
Terletak kira 360km dari sempadan Padang Besar. Perjalanan ke sana antara 5-6jam. Tak sempat singgah tempat menarik sepanjang perjalanan disebabkan kelewatan urusan passport di sempadan Thailand - terlalu ramai pelancong dan sistem yang lembab.
Hampir jam 7pm kami di lokasi pendaftaran yang terletak di tepi sungai Tapae. Suasana masih meriah dengan musik dan MC MatSalleh dari Bangkok yang fasih berbahasa Thai dan Melayu - Bryan. Beliau pernah mengajar di UKM selama 5 tahun. Dan sekarang menetap di Bangkok serta aktif berlari.
Pihak penganjur telah asingkan size, baju dan bib untuk group kitaorang. Ianya lebih mencepatkan proses pendaftaran kami. Walaubagaimana pon kami tak sempat shopping pakaian2 sukan di khemah2 yang terdapat sekitar kaunter pendaftaran sebab terlalu lewat dan lapar.
Kami berpecah 2, disebabkan lokasi hotel yang berlainan - Sabye D Resort dan iRoom Hotel.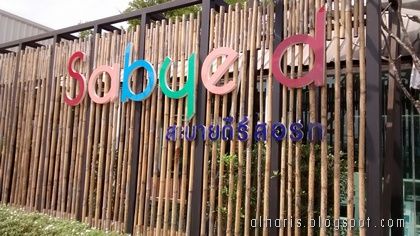 Sabye D Resort
Cukop best. Terletak di seberang sungai dari kawasan pekan. Dalam laluan larian. Cuma 500+ meter berjalan kaki ke tempat larian. Bilik luas, kemas dan murah serta lanskap pokok dan kolam ikan yang cantek. Cukop berbaloi menginap.
Gambar hari pertama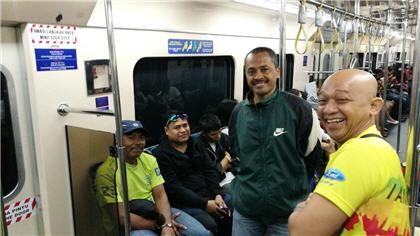 Dalam komuter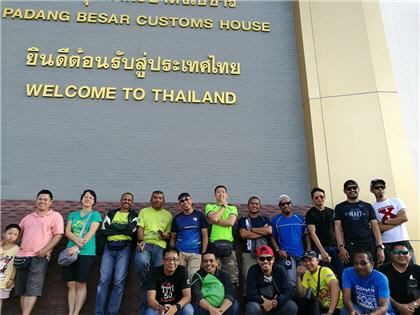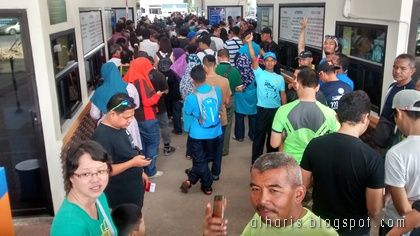 Ramai dan sesak di imigresen Thailand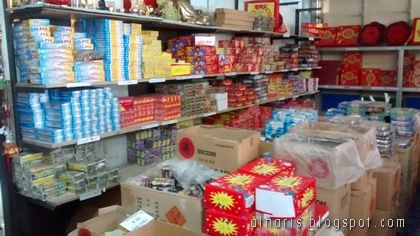 Money changer aka kedai mercun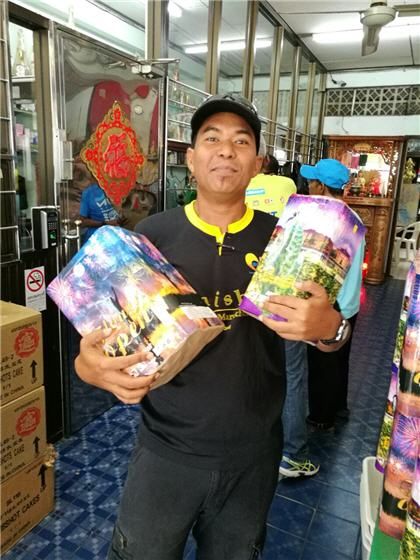 Bunga api - Cucuh untuk sambut tahun baru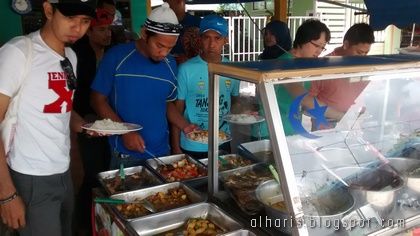 Lunch merangkap sarapan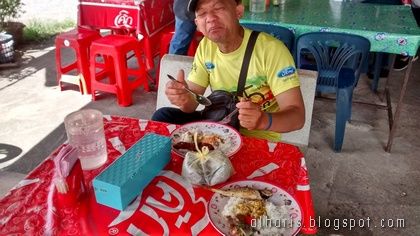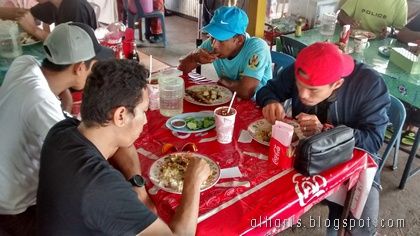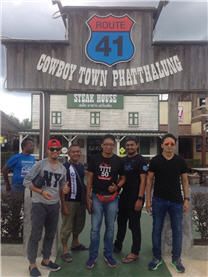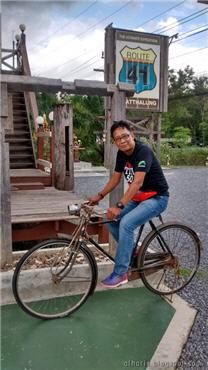 Pekan koboi dan kuda besi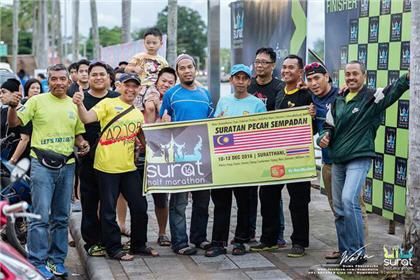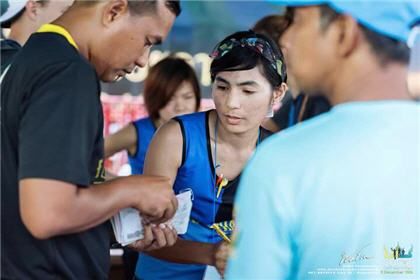 Urusan pendaftaran secara berkumpulan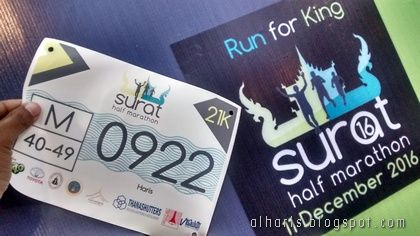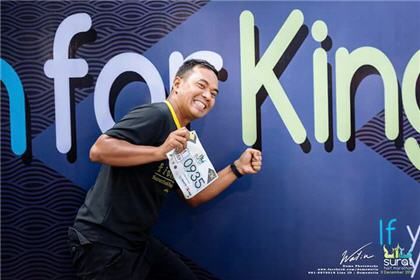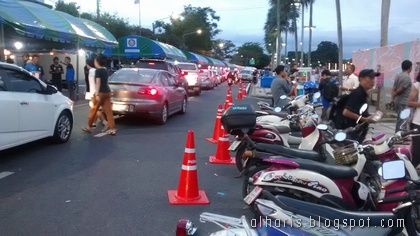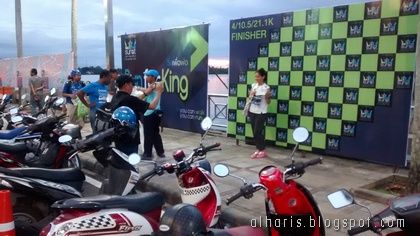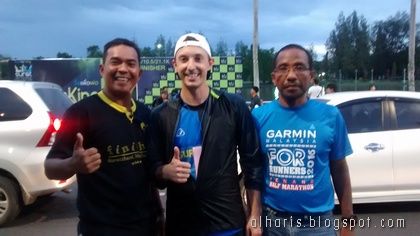 Bryan - MatSalleh boleh berbahasa Thai dan Melayu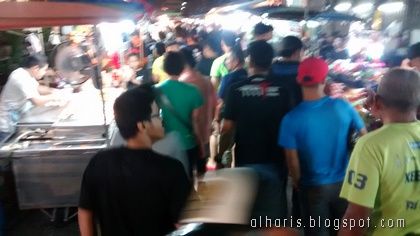 Pasar malam mencari makan malam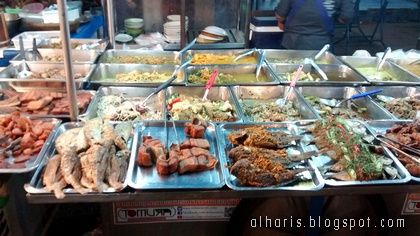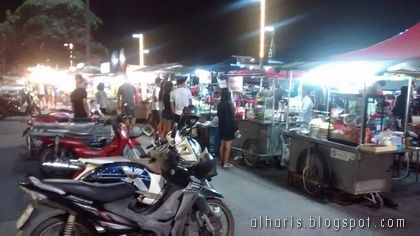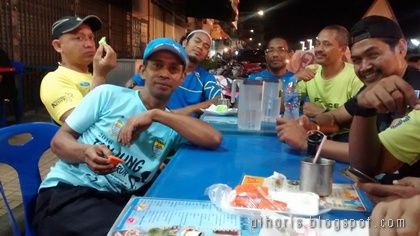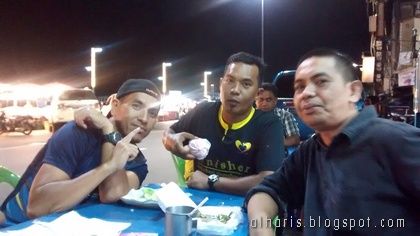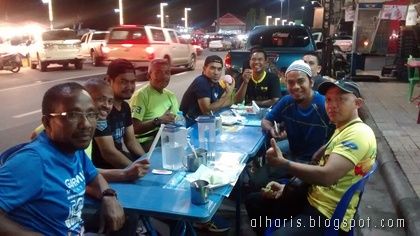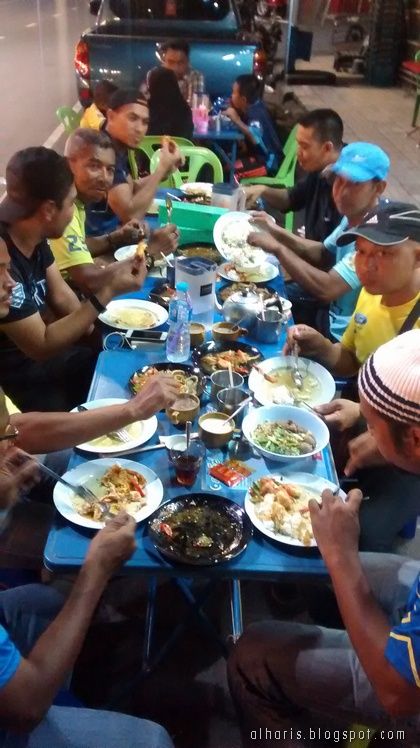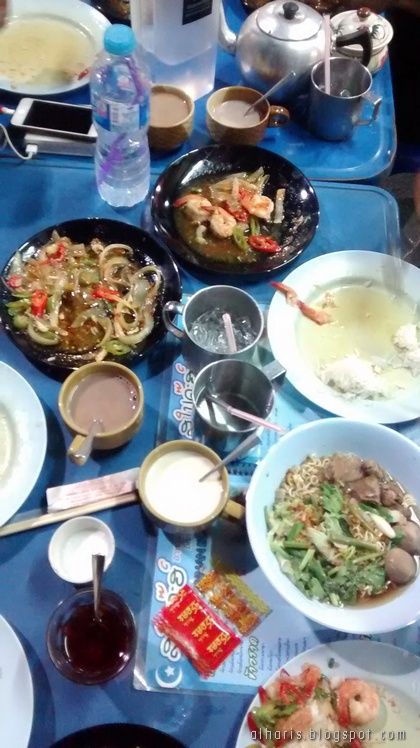 Ahad - Race Day.
Berjalan kaki dan solat subuh di khemah pendaftaran.
Cukop meriah dengan senamrobik serta muzik Thai yang rancak. Pelbagai peringkat umur yang datang dan turut serta - tua, muda, kanak2 dan binatang kesayangan.
Keadaan masih gelap. Kami mula berlari menyeberang sungai dan lepasi hotel penginapan. Pacing bersama Johnny. Sembang tanya apa pon dah tak mau layan.. dok ralit dengaq mp3. Sesekali dia rengah menyanyi bila mai tang part lirik lagu rock yang dia tau. Marka siam dok lari sebelah terkujat dan gelak sama.
Water-station. Superb bagi aku. Sebab aku cuma perlu mineral water tanpa ais saja. Lelain tu bonus, tapi aku tak akan amik masa lari. Jumlah water-station cukop dan memadai. Seriau terbocor balik aja...
Sepanjang larian kat Thailand, event ni yang menyebabkan aku mati kutu nak buat pose aksi lari apa lagi.. cukop ramai shutterbugs. Hat candid, hat official... cukop ramai. Sekali shoot... 4-5snap. Sampai sekarang aku belom habis tengok album larian di FB penganjur.
Cuma kurang best. Laluan larian adalah U-turn pada KM ke 10. Kelebihan plak, kita bleh kira posisi kita ditempat ke berapa.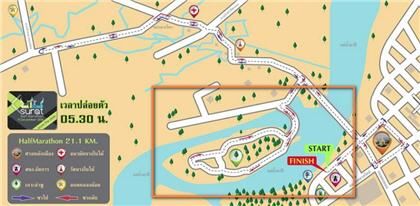 Laluan 21km dan Ko Lumphu
Paling best. Lagi 400-300meter nak sampai dengan muzik rancak dok main di tempat acara, kitaorang tala pi pusing lagi 1km dalam Ko Lamphu - Sebuah delta\pulau ditengah sungai.
Satu pusingan pulau adalah 1km. Menariknya di Ko Lamphu, ia merupakan lokasi rekreasi untuk warga tempatan. Dilengkapi alatan senaman dan gelangan futsal, track mini-tar yang rata dan bersih.
Jika melencong ke Suratthani.. mai jogging kat track jogging Ko Lamphu di waktu pagi. Lepas tu nikmat sarapan pagi di warung muslim yang berhampiran - Depan hotel Sabye D Resort. Terbaik!
Medal Surat Half Marathon - amat menarik. Yang aku capai/kalung dulu berbanding capai botoi ayeq ketika tiba di garis penamat
Misi ke-2 adalah selfie dan group photo bersama duta Surat Half Marathon - Kwansai Patkong. Meleret senyum bila dapat bergambar.
Ada 2 wakil naik podium. Firdaus yang memenangi #9 dalam 10km dan anak Wan yang memenangi peserta termuda dalam acara Fun Run.
Seperti biasa larian di Thailand tak meriah tanpa makan2 selepas lari. Pelbagai makanan di jamu. Cukop banyak dan tiada had. Aku cuma minum cincau saja - was2.
Selepas check-out hotel, kita orang berpecah ke destinasi
Khanom mencari pink dolphin
dan Padang Besar bagi trip 2D1N.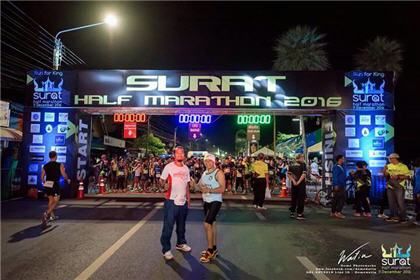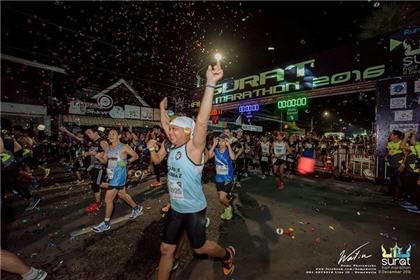 Johnny Be Good..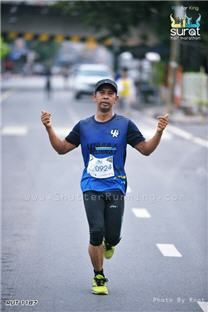 Sprinter - Firdaus dan Nan the translator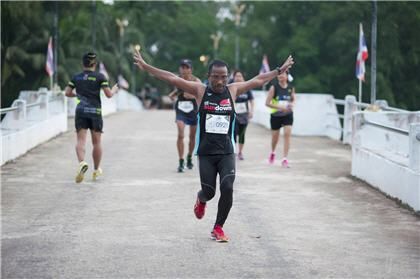 Abg Man Haron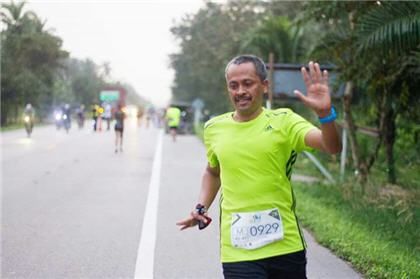 Che Din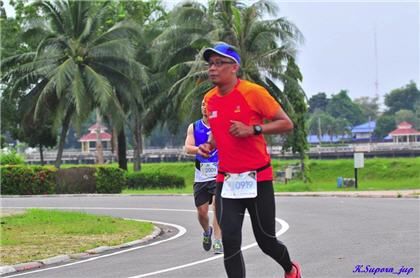 Baman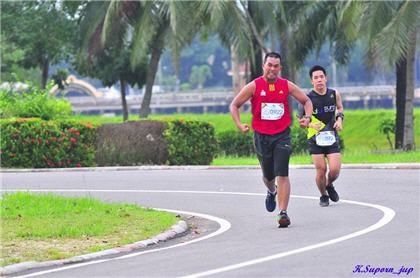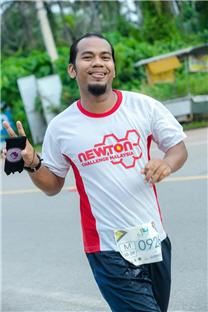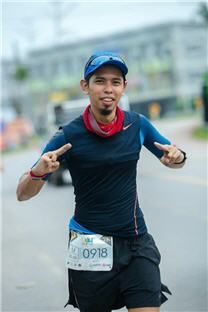 HafizPid + Remin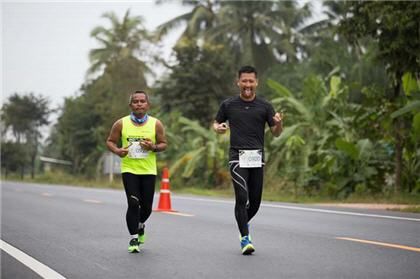 Ujang+MatPi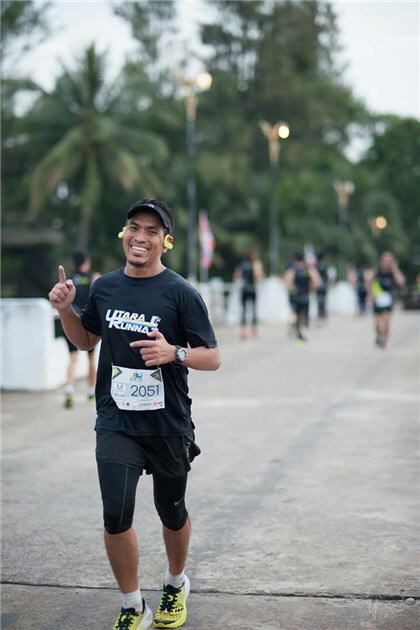 MdSham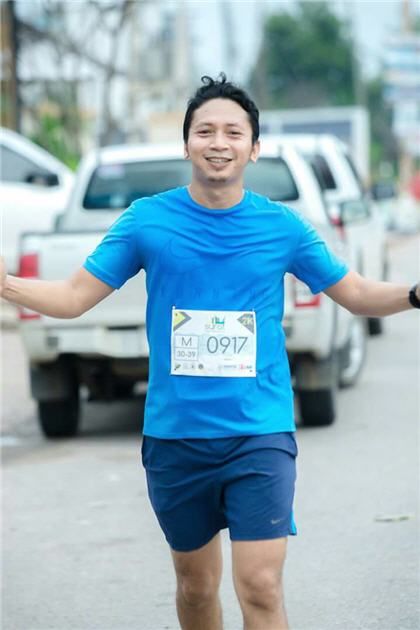 Man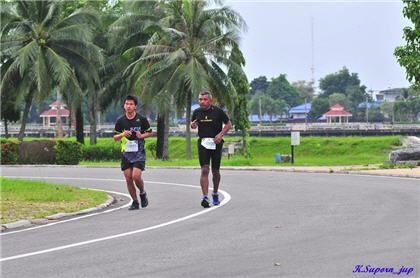 PakYa The Indorunners
Ejan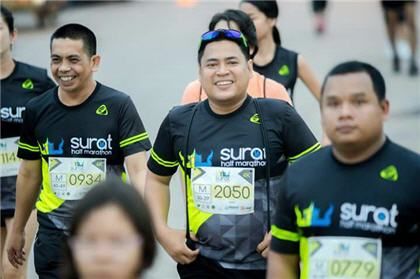 Fahimie + Raden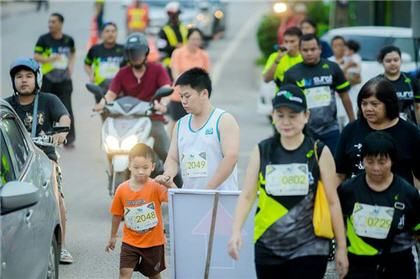 Wan + Jr. + Spouse behind.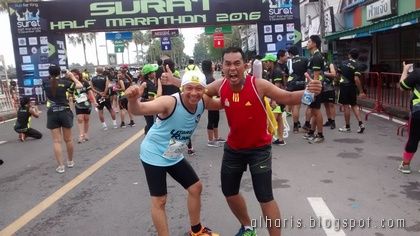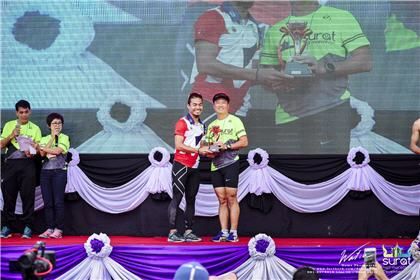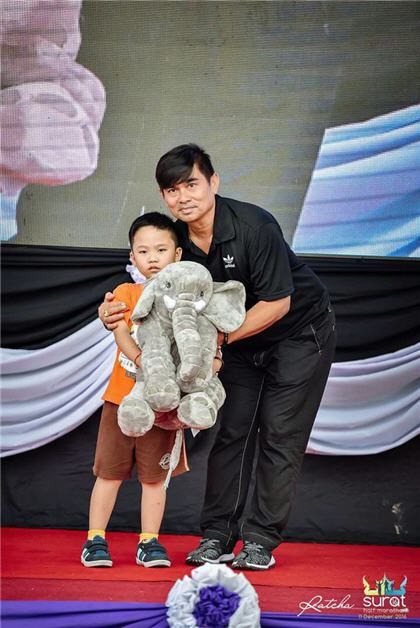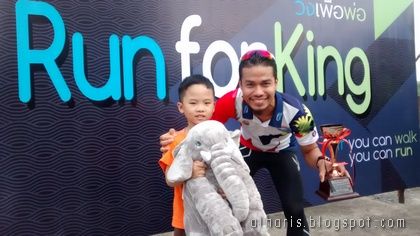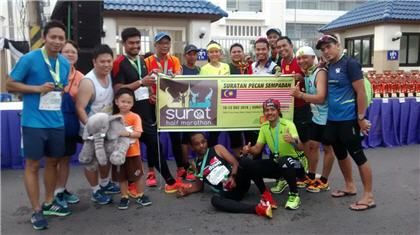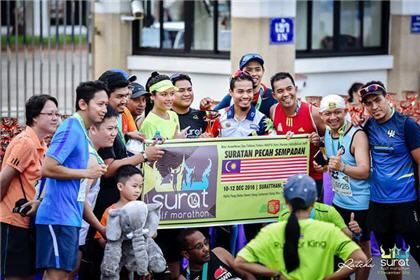 Misi ke-2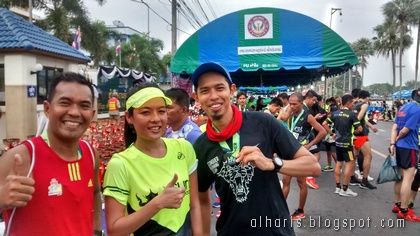 Misi ke-3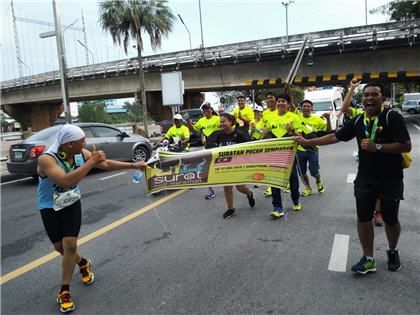 Last runner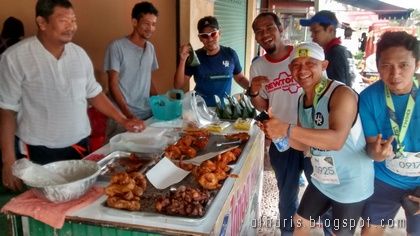 Breakfast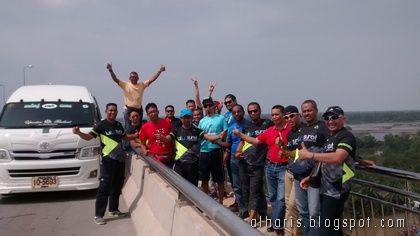 Landmark Suratthani - Jambatan Sri Surat. Lokasi acara Suratthani Marathon.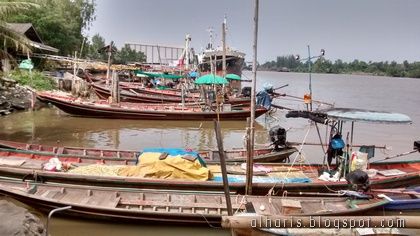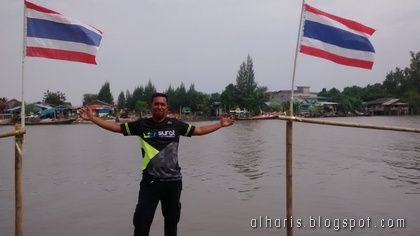 Singgah di perkampungan nelayan islam untuk solat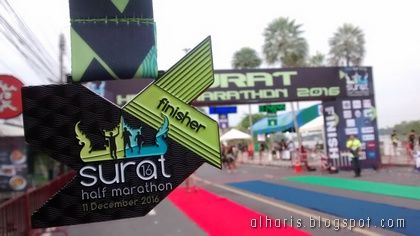 Cantek..haah..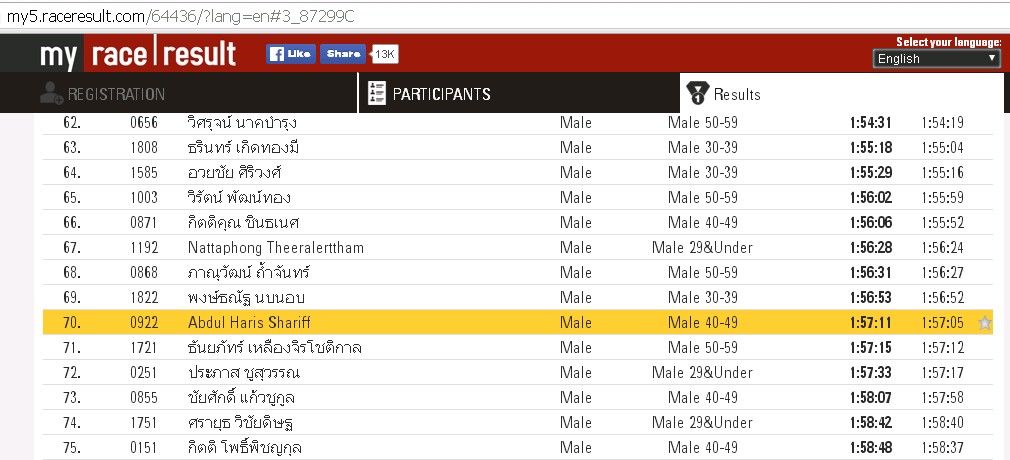 Keputusan rasmi. Klik untuk size XL
Photo ehsan daripada official dan rakan-rakan serombongan