Terengganu Beach Extreme Challenge
A run+bike event for 4days in row. More detail..
http://www.angelfire.com/planet/tbec2006/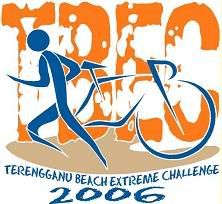 The Menu.
6th June 2006 (Tuesday)
-Registration
7th June 2006
(Wednesday)
-5KM run : Pantai Telok Mak Nik, Kemaman
-85KM cycle : TIC Geliga - Pentas Budaya Dungun
8th June 2006
(Thursday)
-6KM run : Pantai Telok Gadung, Dungun
-60KM cycle : Pentas Budaya Dungun - Marang
9th June 2006
(Friday)
-7KM run : Dataran Kuala Besut
-50KM cycle : Besut - Setiu
10th June 2006
(Friday)
-3KM run : Pantai Chendering
-35KM cycle : Masjid Terapung - Batu Burok
..from Azwar
Duh! That week already apply for a long leave and booked. Going somewhere with family. If i know earlier... will postpone this family trip for second time (Sure kena karate if postpone again). Wish i could kampoi this one too. Pap! pap! paaaaap!
Meleleh ayeq liuq.. tengok last year photos. - Tarak rezeki.