Report: Larian Jambatan Kuala Dungun
By Aiman Cheah Tiong Chap
Venue: Padang Astaka Kuala Dungun
Date: 16 August 2008
Time: 8.00 a.m.
I got to know this event through my host's blog. It was a last minute decision to join the race. I was pretty excited as this would be my first race in Terengganu. I registered at the NSTP office in Jalan Riong on Wednesday afternoon. RM30 was actually quite steep for a 10km race - no goodie bag, certificate or finisher medal. I had to make adjustments because I had planned to 'balik kampung' on Saturday morning.
I slept late on Friday night because I wanted to help my wife to apply online for a degree course. Started the journey at a quarter to four on Friday. I had hoped to reach my father-in-law's house by 10 p.m. I had a smooth journey in the beginning. Unfortunately, it was raining cats and dogs when we were about 20km from Kuantan. Traffic was slow - around 50kmph. It was a relief when we were on the highway to Cherating. It was only drizzling. I was caught in a traffic jam in Cherating because there was an accident. Finally reached 'home' half past ten. I slept at 12 midnight after dinner.
I woke up at 7.08 a.m. on Satuday! Oh, no. There was no way I could make it unless the race was delayed. Took the risk but I did not drive fast. I got ready by 7.25 a.m. and headed to Kuala Dungun. I was happy because the traffic was light and I could maintain my 90kmph speed on federal road. Unfortunately, there were many traffic lights nearer to Kuala Dungun and I was stucked at a few of them.
I saw the Padang Astaka but no runners! They must have left and it was a quarter past 8. I went to the reporting station and was told I could not run. I asked for my t-shirt and was directed to the 'urusetia'. I requested for a black shirt and asked if I could still run. One of them said ok and went to take a bib - 149! Only 148 competitors in the Men Open?
That was not many participants. I was happy because at last I could still run....never mind the position because I would not be among the top 20 for the cash prize anyway. Then one of them told me not to run as I may confuse their officials. Well, I think that was a good idea too... it will be around kampung area and if there was no marshall, I may not come back to the Padang Astaka.
Then announcement was made to call the children for colouring contest. My wife took Afiqah to the stage for the event.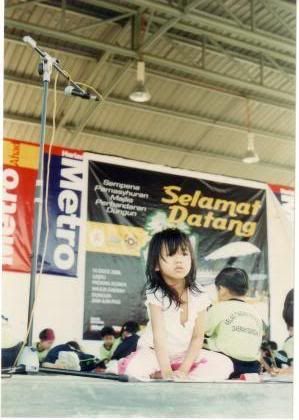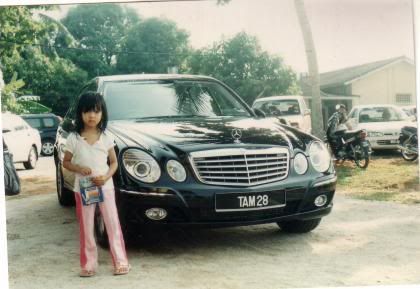 This Mercedes was not Afiqah's prize winning. It had appeared in the newspaper a week or so ago. She did not look happy or excited, did she? Actually, she stopped colouring when my wife went away. Parents were not allowed to be near their children!
Lucky draw? Not a lucky day for me - could not experience the race and Afiqah did not complete her colouring task! She could have a chance because only colour pencils were allowed.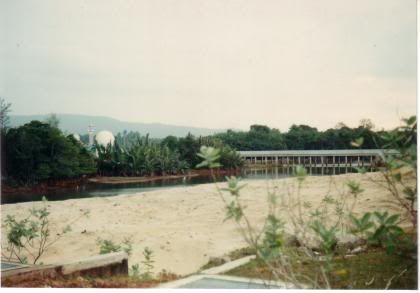 On 19th August, before I took a bus back to KL I jogged around the neighbourhood. Since did not run Jambatan Kuala Dungun, Jambatan 'Celcom' in Kijal pun jadilah.
Hopefully, I will be able to wake up early for Shape and Men's Health Run this Sunday. So far, I had missed two runs - PJ Half Marathon 2007 and Larian Jambatan Kuala Dungun because I could not wake up early. The near misses were the KRI 12km run in 2006 and Larian Utusan Bangi 2007 - was there less than 5 mins before the race started!