IIR yang berlagak
Ipoh International Run (IIR) - An event which the organizer never learn lesson from previous-previous-previous mistakes. Normally a person who keep no doing same mistake again and again eventhough the solution/problem being highlight, we call it - "Berlagak sombong" another word "Tak reti bahasa"..
For me, i already close my appetite to run IIR many years ago
since 2004
- but not fully. Each year i keep update IIR performance thru my keen running friends. Same stories.
No enough medals, lack of certificate, run out drinking water, wrong route, long queue for finish medals, no marking distance - these are basic runner needs. And still they did not fix it or make improvement.
I had witness numbers of marathon runners in IIR crossed finish line and nobody waiting. Finish medal gone - habis, finish banner, tent already brought down, Drinking water station?.. sudah bungkus balik. And i have to give my water bottle and they shared within 4~5 of them. Pity..right?
But... if i mention KRI - Ipoh, anyone disgree if i said KRI is one of best run event organizer? No doubt. They have alot of experience in this sport. Each year they gain more runners participated into their annual event. So my suggestion for next IIR..
Why not the IIR organizer do a joint-venture with KRI?.. Why not?
Ok.. if the IIR organizer.. berlagak sombong. I plead to KRI...
Why not KRI help the IIR organizer on technical/basic thing?.. Why not?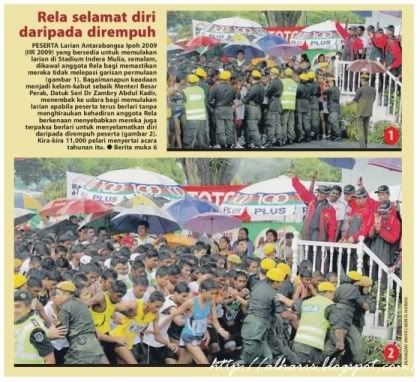 Rela line-up - Lawak Antarabangsa! from Berita Harian 6Jul09
Never in my any running race, human used as starting line. Macam tak pernah buat run race and they never learn.
Labels: newspaper