Nutrilite 75th Anniversary Walk and Health Carnival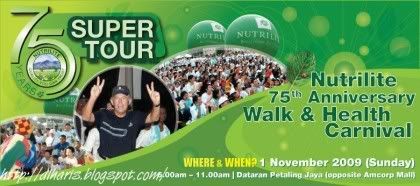 Date: 1 November 2009 | 6am
Venue: Dataran Petaling Jaya
Distance: 7.5km
Website:
www.amway2u.com/miniweb/nutriwalk/index_en_US.jsp
A 7.5km walk with
Dr. Sam Rehnborg
- son of Nutrilite founder, Carl F. Rehnborg.
Click on website for registration... eemm maybe you need a friend who is Amway distributor to join the event.. like me. No doubt, until now I still rely on nutrilite multivitamin supplement for recovery.