Report: New Balance Klang Pacers 12km Run
By Aiman
Venue: Stadium Padang Sultan Sulaiman, Klang
Date: 15 November 2009
Distance: 12km
I think it has been a long time since I last run at Stadium Padang Sultan Sulaiman, Klang. The first time was way back in 1988 - Klang Container Terminal Quarter Marathon. Then, I finished in 45mins 55secs and I was 90th in the Men Open category.
This time the organizer started at the 'correct' time. When I was at the Setia Alam run, the race started 10 mins earlier. Heard that Centrino run was also earlier than scheduled. I was lucky to be at the venue at least a quarter to seven. After the warm up session, the runners were led to the starting line outside the stadium.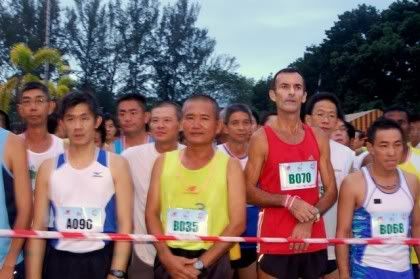 Since I had no target, I started from the back, running with Mr Tan Khee Meng and later caught up with Mr Kelvin Ng. Mr Kelvin Ng was my bench mark. He was consistent all year round, year in and year out. I have not been faster than him for this whole year. However, this time, I did overtake him and let him bit the dust.
I felt good and stopped only at the water stations. The first one to hydrate myself and the second one to consume power gel.
I finished the race in 62mins 12secs. I was 39th in the Men Junior category. My student, Muhammad Syafiq also did well in the race - finishing in 90 minutes considering he took almost two and a half hours in BHP Run early this year!
After having 'great' races since the Genting Trailblazer, I hope to continue with the good form and do well in one of my most favourite events - 12-hour walk in Putrajaya. Frankly, I really miss the Penang Starwalk. Had I known that Penang is organizing the 12-hour walk in January, I would have not signed up for the Putrajaya 12-hour walk.