Report: Sau Seng Diabetes Walk
By Aiman
Venue: Sau Seng Lum (Puchong) Dialysis & Stroke Rehabilitation Centre
Date: 8 November 2009
Distance: 5km
This is a charity walk and it is non-competitive. Registration fee is only RM15 and the participants are given a t-shirt and certificate of participation. A goodie bag is also given at the end of the race.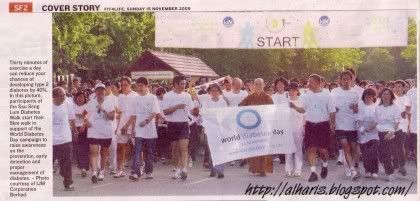 The walk started almost an hour later than scheduled. Although it was a non-competitive walk, people like to race and I was not exempted! I took it as my training. I started the walk about 5 rows from the front and slowly making my way to the front. It took me about 5 minutes before I could make my way to the leading pack.
After 10 minutes I was already among the top 10. Later, I saw Mr. Lee Hai Chin. He is my true contender. He was third - of course, he was walking and was behind two youths who were jogging. I tried to step up my pace during the last 1km but was unable to do so my hamstring was signaling not to strain it. Just kept up with the rest and managed to overtake one youth before the finishing line.
Mr Lee was a serious man. He refused to shake hand with the winner when the winner wanted to shake his hands. I thought, why want to run when there was no prize involved. It was just a healthy activity and the aim is to raise fund.
I had to leave early as there was no one looking after my children. Received sms from my wife to return as early as possible. So I left the venue by 9 a.m.
One of my students was lucky to win an RM200 voucher for bone scan. SSL called his father to notify the good news. It's the first time where the winner who is not at the venue is not forfeited of their winning.