Rombongan sambil berlari di Hatyai
We decide to rent a bus for
Hatyai Marathon 2010 on 30 May
. A 2D1N trip. The bus will 'take-off' on Saturday (29May) early morning from Bukit Mertajam using PLUS highway until Bukit Kayu Hitam or Danok and return back on next day (Sunday - 30May)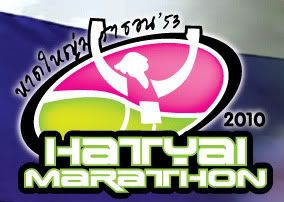 Before Bukit Kayu Hitam, we will drop somewhere around Changlon for money exchange and jot down name and category for Hatyai Marathon registration.
For room, we'll book 2 guests for a room. If need a room let me know. We'll arrange like what we did last year during
Hatyai Nature Run 2009
.
After the run, we will return to hotel for check-out and return back to Bukit Kayu Hitam after lunch. Urut? pergi lar a night before tuh.
The fee is RM200/pax including hotel and bus fare only. This fee is not fix, depend on group hotel reservation. Might be less or might be more. We'll collect or return any extra during return trip. I won't take any profit for this rombongan.
I will join the rombongan from PLUS Gurun R&R (Butterworth -> AlorStar). Those who interested to join me, I can help you park the car on the other side of PLUS Gurun R&R (AlorStar -> Butterworth) or park the car at my office. Only 5 mins drive.
Left a message or email me (aharisshariff@gmail.com) if interested to join with us and RM100 deposit needed as confirmation.