Report: Walkathon 2011 in aid of Nalanda Education Fund
By Aiman Cheah
Date: 10 April 2011 | Sunday | 7:30am
Venue: Nalanda Centre, Taman Sri Serdang
Category: A Men (Above 19 Years Old)
Distance:5km
Result: 28:09 Position:6
This event was held two weeks after the Bukit Kiara RDA Charity Walkathon. I was more fired up for this event. I trained harder.... managed to swim at least 2 000m in less than an hour and walked up to 8.4km twice a week.
Suresh had called me a week earlier informing me that he would not make it to the event due to work commitment. I thought at least I could eye for a podium finish.
The day before the event, Fazly called me to ask for directions to the place. There came the replacement for Suresh. Fazly is a good walker and is going to get better as he gets older. It has been more than 2 years since I last beat him in a race. Raiei also came. However, I thought I could have a chance against him as I was well prepared. He had not done better than me in 5 000m last year and the year before but had always turned the table on me comes Starwalk.
Thiru Kumaran also joined in the fray. Of course he was a class above the rest. I believed that he did not go all out but still managed an impressive time of 24 minutes. The chasing pack was equally impressive as they were not far behind him.
I pushed harder this time and I thought I did better than two weeks before but I found that others had improved much more. I was left slightly more than a minute in the Bukit Kiara race but it was close to 4 minutes in this race! I hope that they won't join the JDP race on 5th June or I would finish outside the top 10.
But it would be good to meet them again in Kordel Walkathon on 12 June. It will be a fat chance that I would be able to challenge them. To be able to finish the race a kilometre behind them in a 7km race would be an achievement. Ipoh Starwalk would be on 19th June but I don't think they will be around as it is held outside KL.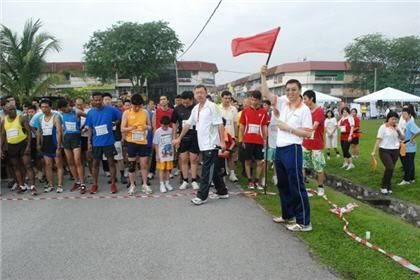 Assembling at the starting line.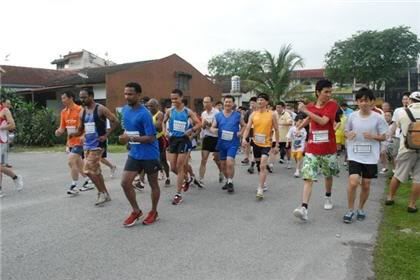 The begining of the race.
Picture courtesy of www.facebook.com/nalanda.org.my